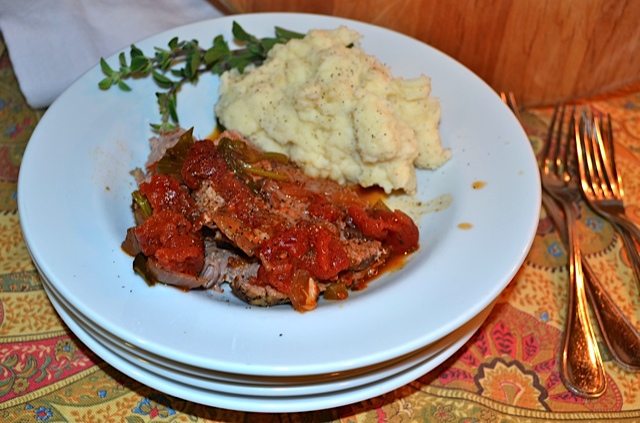 prepared by and photo by Emily Doscher

Old-school style roast beast, I mean beef.  Not the tenderest of the beef cuts, but… constant basting will help keep the meat from drying out.  Another alternative is to braise the beef in a slow-cooker for 2 hours per pound.  Scoop a generous portion of Fennel Mashed Potatoes with the roast.  Reminds me of when I was still only a single digit (in age) at a sit-down dinner with my family back in PA.  Many… many, years ago.

Size:

6 servings



Ingredients:
1 cup low-salt chicken broth or beef broth
1/2 oz dried porcini mushrooms
1 4-lb boneless beef chuck roast, trimmed
2 tbsp extra-virgin olive oil
1 large onion, coarsely chopped
2 celery stalks w/some leaves, cut into 1/2" thick slices
3 garlic cloves, smashed
1 tbsp chopped fresh marjoram plus sprigs for garnish
1 28-oz can whole peeled tomatoes, drained
1 cup dry red wine



Directions:




Preheat oven to 300F.  Bring broth to simmer in saucepan.  Remove from heat; add mushrooms, cover, and let stand until soft, about 15 minutes.  Using slotted spoon, transfer mushrooms to cutting board.  Chop coarsely.  Reserve mushrooms and broth separately.

Sprinkle beef with salt and pepper.  Heat oil in heavy large ovenproof pot over medium-high heat.  Add beef and cook until brown on all sides, about 15 minutes total.  Transfer beef to large plate.  Pour off all but 1 tablespoon drippings from pot.  Place pot over medium heat.  Add onion and celery.  Sprinkle with salt and pepper and saute until beginning to brown, about 8 minutes.  Add garlic, chopped marjoram, and reserved porcini mushrooms; saute 1 minute.  Using hands, crush tomatoes, 1 at a time, into pot.  Cook 3 minutes, stirring frequently and scraping up browned bits from bottom of pot.  Add wine; boil 5 minutes.  Add reserved mushroom broth, leaving any sediment behind.  Boil 5 minutes.

Return beef and any accumulated juices to pot.  Cover; transfer to oven.  Cook 1 1/2 hours.  Turn beef and continue cooking until tender, about 1 1/2 hours longer.  (Can be made 2 days ahead.  Cool slightly.  Refrigerate uncovered until cool.  Cover and keep refrigerated.)

Transfer beef to cutting board, tent with foil.  Spoon fat from surface of juices in pot.  Bring juices to boil; cook until liquid is reduced to 4 cups, about 7 minutes.  Season with salt and pepper. (I have some peeps in my house who prefer "chunkless" sauces and gravies, so I pureed the liquid in a food processor and then poured through a sieve into a bowl/pot which then I served.  Oh, the things we do…)

Cut beef into 1/4-1/2″ thick slices.  Transfer to platter.  Spoon juices (gravy) over, garnish with marjoram sprigs, and serve.