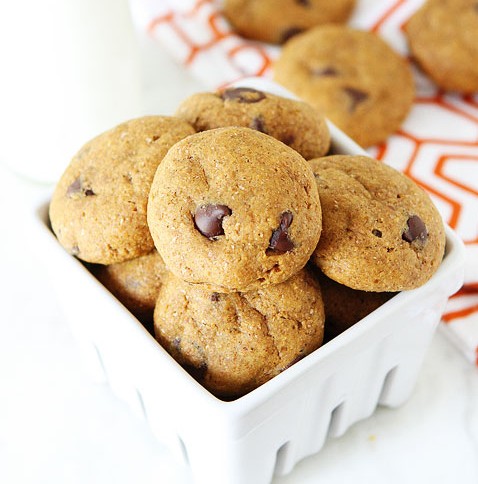 Okay, you may be suspicious about a cookie under the "Health" section. How could it be any good and especially when posted by a Personal Trainer with certs in nutrition counseling? Well, here's a dirty little secret: I LOVE sweets, they are my weakness so I can definitely vouch for their gastronomic goodness. Even though these cookies are (eek) VEGAN, they do NOT taste like cardboard and you should not judge before you taste. These little gems have become a household favorite this fall even for my omnivore husband who always balks at the whisper of "healthy", vegan, organic. So bake these babies up and don't disclose the ingredients until after everyone has fallen in love.

(Don't Tell 'Em It's Vegan) Pumpkin Chocolate Chip Cookies from Two Peas and Their Pod

Size:

18 cookies



Ingredients:
1 1/2 C whole wheat flour
1/2 tsp salt
1/4 tsp baking soda
1/4 tsp baking powder
3/4 tsp ground cinnamon
1/4 tsp ground nutmeg
1/8 tsp ground ginger
1/8 tsp ground cloves
1/4 C coconut oil (melted and cooled)
1/4 C brown sugar
1/2 C granulated sugar
1 tsp vanilla extract
3/4 C pumpkin puree
3/4 C chocolate chips (vegan if you choose)



Directions:



Preheat oven to 350 degrees F. Line a baking sheet with silpat or parchment paper.
Whisk flour, salt, baking soda, baking powder and spices together in a medium bowl.
With a mixer, combine the coconut oil and sugars together in a separate bowl. Add the vanilla and pumpkin and mix for 3 minutes. Slowly add in dry ingredients and mix until just combined. Stir in the chocolate chips.
Drop by large rounded tablespoons onto sheet. Bake 10-12 minutes. Let cool for a few minutes before transferring to cooling rack.
ENJOY!