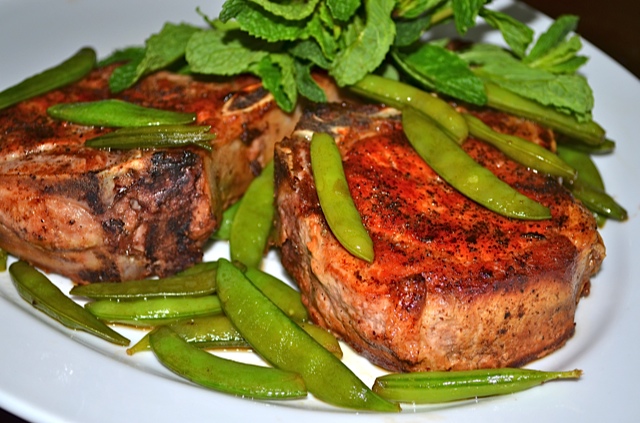 prepared by and photo by Emily Doscher

A surprising coupling… snap peas and pork chops… somehow the bourbon and mint glaze bring it all together.  Reminiscent of the classic Kentucky cocktail.

Size:

makes 2 servings



Ingredients:
1/2 cup low-sodium beef broth
6 tbsp bourbon, divided
1 tbsp (packed) dark brown sugar
1/4 tsp white wine vinegar
2 3/4" thick pork rib chops
Ground allspice
1 tbsp butter
4 oz sugar snap peas
1/4 cup chopped fresh mint



Directions:




Stir broth, 3 tbsp bourbon, sugar, and vinegar in small bowl until sugar dissolves.  Sprinkle pork with salt, pepper, and allspice.  Melt butter in medium nonstick skillet over medium-high heat.  Add pork.  Saute until just cooked through, about 6 minutes per side (butter will brown).  Transfer pork to platter.

Add bourbon mixture to skillet and bring to boil.  Add sugar snap peas and cook until crisp-tender, about 2 minutes.  Using slotted spoon, scatter peas over pork.  Add remaining 3 tbsp of bourbon to sauce in skillet.  Boil over high heat until sauce is reduced to thin glaze and coats spoon lightly, about 3 minutes.  Mix in mint; spoon over pork and serve.