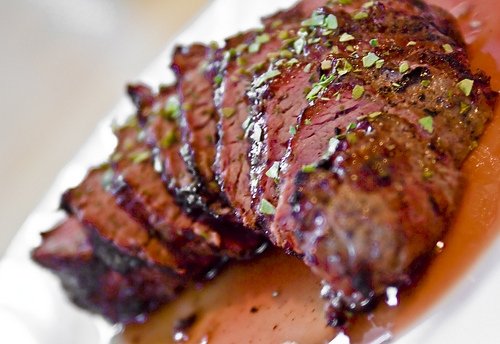 In the need of a dinner at home just for the two of you?  Set the tone for romance with a quick-to-prepare beef tenderloin topped with a luscious Cognac sauce.  Also, its easy enough to double or triple this recipe for the entire family.

Size:

2 servings



Ingredients:
2 tbsp (1/4 stick) unsalted butter
1/4 cup chopped shallots
1 tsp (packed) brown sugar
1 cup canned low-salt chicken broth
1/2 cup canned beef broth
1/2 cup Cognac or brandy
1/4 cup whipping cream
2 4-5 oz beef tenderloin steaks (each about 1" thick)
Fresh chives



Directions:




Melt 1 tablespoon butter in heavy medium saucepan over medium heat.  Add shallots and saute until tender, about 4 minutes.  Add brown sugar; stir 1 minute.  Add chicken broth, beef broth and Cognac.  Simmer until sauce is reduced to 1/2 cup, about 20 minutes.  Add cream.  (Can be made 1 day ahead.  Cover; chill.)

Sprinkle steaks with salt and pepper.  Melt 1 tablespoon butter in heavy medium skillet over medium-high heat.  Add steaks; cook to desired doneness, about 4 minutes per side for rare.  Transfer steaks to plates.  Add sauce to skillet; bring to boil, scraping up any browned bits.  Season to taste with salt and pepper.

Slice steaks; fan slices on plates.  Top with sauce and garnish with chives.