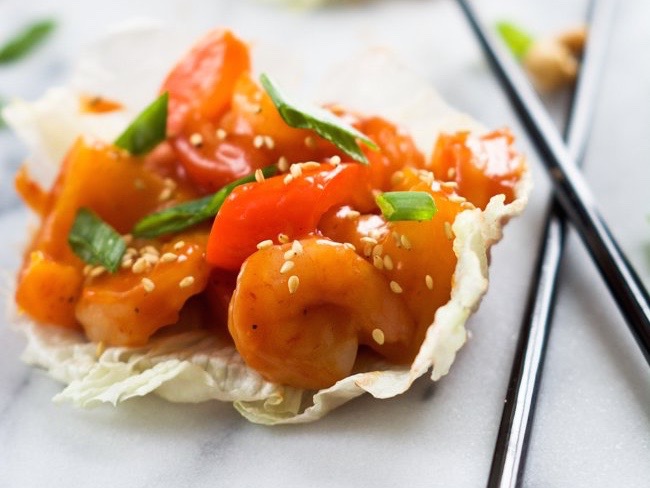 photo creds: rachelcooks.com

Despite the long list of ingredients, this shrimp dish is easy to put together and a healthy meal alternative.
The recipe calls for coconut oil, which has a bunch of health benefits both in and out of the kitchen. Rather than wrapping the shrimp combo in a tortilla, the healthier alternative is to use Bibb lettuce which naturally acts like a "cup". Check out more recipes like this on rachelcooks.com.

Size:

4 servings



Ingredients:
SAUCE:
1/4 cup low-sodium chicken broth
2 tbsp low sodium soy sauce
1/4 cup apricot jam
1/4 cup honey
1 tbsp apple cider vinegar
3 tbsp tomato paste
1/2 tsp sesame chile oil (in Asian section of supermarket)
1/2 tsp garlic powder
12 tsp ground ginger
1/4 tsp black pepper
2 tbsp cornstach
Pinch crushed chili flakes or Sriracha (optional)

OTHER INGREDIENTS:
1 1/2 lbs shelled and deveined shrimp, 51-60 count
1 tbsp coconut oil
1 small onion, diced into 1/2" pieces
1 red bell pepper, cut into 1/2" pieces
1 orange bell pepper, cut into 1/2" pieces
1 cup pineapple chunks (fresh or canned)
8 large pieces of Bibb lettuce
1/3 cup chopped cashews
2 green onions, sliced thin



Directions:




In a medium bowl whisk together chicken broth, soy sauce, apricot jam, honey, vinegar, tomato paste, sesame oil, garlic, ginger, black pepper and cornstarch. Set aside.

Preheat a large skillet over medium heat. Add coconut oil and allow to melt. Add the onion and peppers. Allow to soften, 8-10 minutes. Remove from pan and set aside.

Add the shrimp and allow to cook on one side until slightly pink and they shrimp start to curl, 3-4 minutes. Flip the shrimp and add the reserved sauce. Finish cooking the shrimp until no longer pink, 2-3 more minutes.

Add the pepper and onions back to the pan. Toss to cook with the shrimp and sauce.

To serve, spoon shrimp mixture into each lettuce cup, top with cashews and green onion slices.