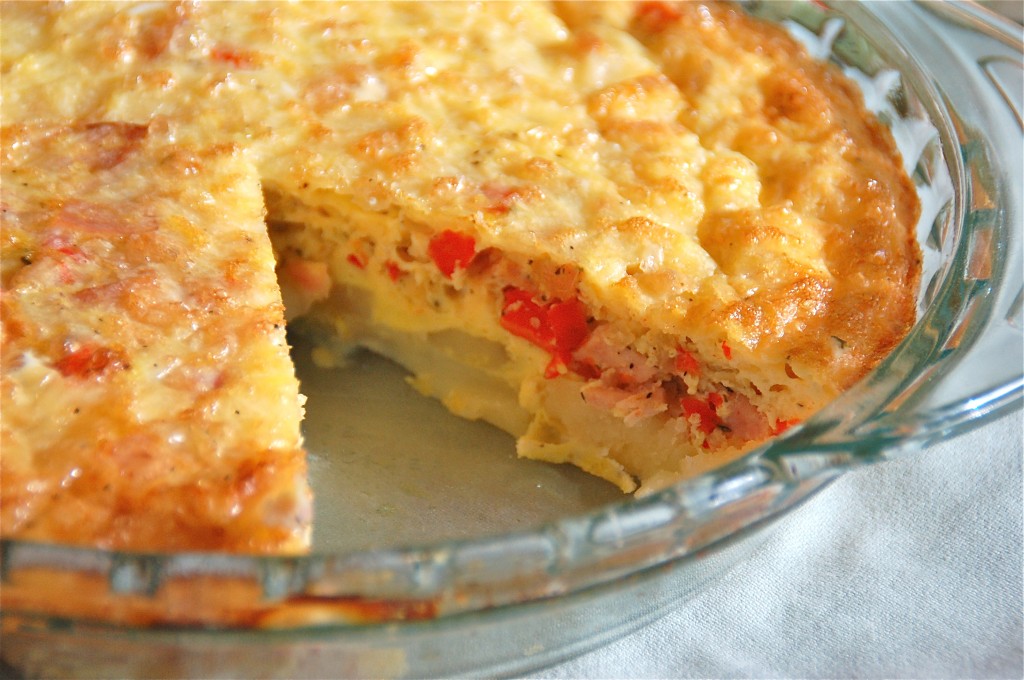 prepared by and photo by Emily S. Downs

A different take on the typical quiche crest.  This one uses potatoes.  The perfect combination.  Not only good for brunch but ideal for dinner with a mixed green salad and crusty bread.

Size:

serves 4-6



Ingredients:
Nonstick vegetable oil spray
1 1/4 pounds russet potatoes, peeled, sliced into 1/4-inch rounds
1 tablespoon olive oil
1 cup chopped onion
1 cup chopped red bell pepper
1/2 teaspoon dried thyme
1 cup diced Canadian bacon
8 large eggs
1/4 teaspoon salt
1/4 teaspoon ground black pepper
4 ounces smoked cheddar cheese, grated (about 1 cup packed)



Directions:




Preheat oven to 350°F. Spray 10-inch glass pie dish with vegetable oil spray. Steam potato rounds until just tender, about 6 minutes. Transfer to rack and cool. Line prepared pie dish with enough potato rounds to cover, overlapping slightly (reserve any remaining potatoes for another use or another quiche).

Heat olive oil in heavy large saucepan over medium-high heat. Add onion, red bell pepper and thyme and sauté 5 minutes. Add Canadian bacon; sauté until heated through, about 1 minute. Spoon bacon mixture over potatoes in pie dish.

Whisk eggs, salt and pepper in large bowl to blend. Mix in cheese. Pour egg mixture over bacon mixture in dish. Bake quiche until set in center, about 35 minutes. Cool 20 minutes. Cut into wedges. Serve warm or at room temperature.

Can make the evening prior… cool… refrigerate… warm in microwave or oven.