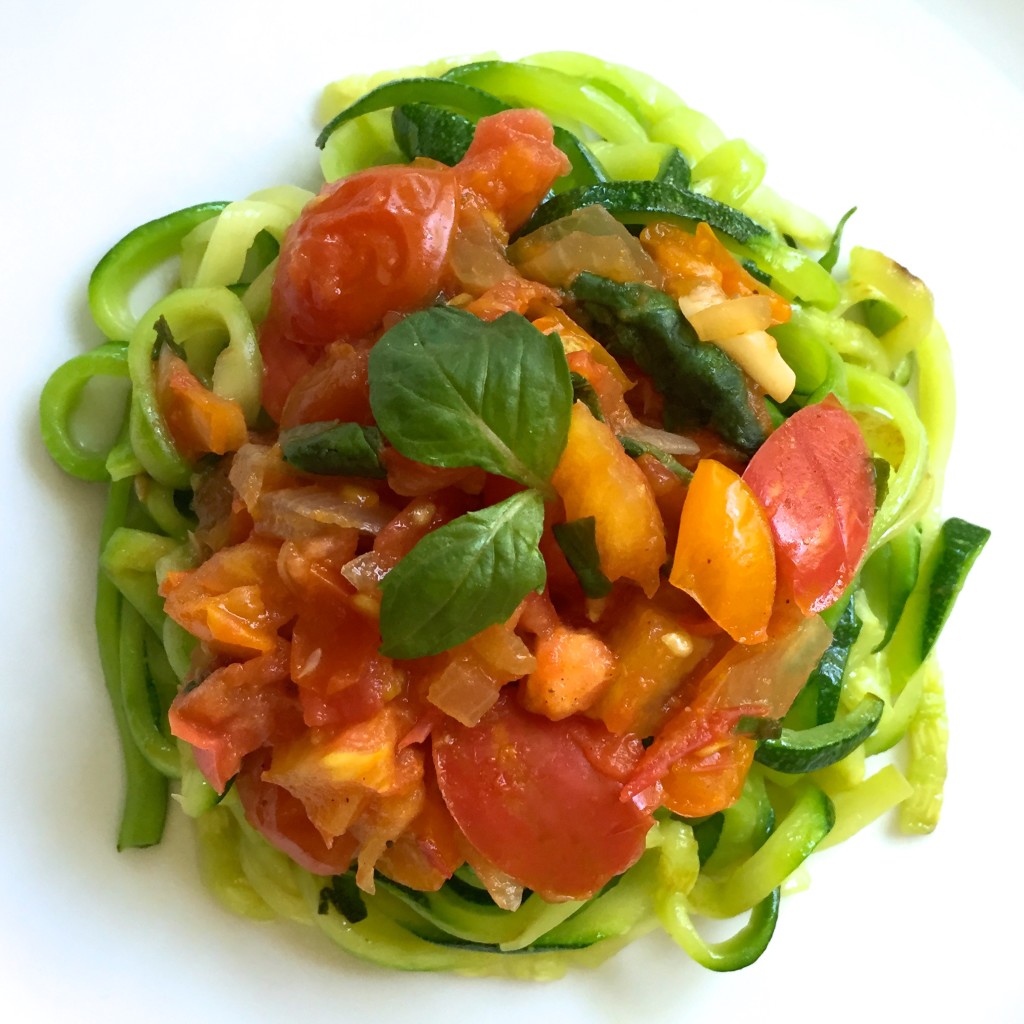 If you love pasta, but are trying to cut back on the carbs, try 
Reshma Shah's
Zucchini Noodles with Fresh Tomato Pomodoro Sauce.
Not only is zucchini a great source for magnesium, folate, potasium zinc and vitamin C, B1, and B6, this dish is truly beautiful. This version of the sauce is completely oil-free but you could also sauté the onions and garlic in a bit of olive oil if you would like. I've also added mushrooms for a little bit more "meat."
Ingredients
4 to 5 zucchinis
small onion, diced
3 garlic cloves, thinly sliced
pinch of red pepper flakes (optional)
1/4 cup of vegetable stock
5 cups of tomatoes, cut into small dice
handful of fresh basil
Instructions
1. Prepare you zucchini using a spiral slicer. Set the "noodles" in a colander and toss with a generous pinch of salt. Allow the zucchini noodles to sit in the colander for 15 to 20 minutes. Sweating the zucchini in this way will draw out some of the excess moisture and give the noodles a nice texture and bite.
2. While the zucchini is sweating, prepare the ingredients for the sauce.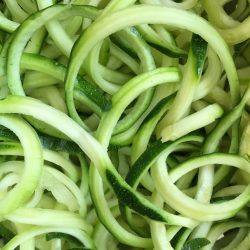 3. In a large fry pan, dry sauté (which simple means to sauté the onions in a dry,well-heated pan without any oil). After about a minute, add the sliced garlic.
4. Continue to sauté until the onions and garlic have begun to brown and are sticking to the pan a bit.
5. Add the red pepper flakes.
6. Pour in the vegetable stock to deglaze the onions and and garlic and cook for another 3 to 4 minutes until the onions are translucent.
7. Add the tomatoes and cook on medium-low heat for about 15 to 20 minutes, stirring frequently to prevent sticking.
8. Season to taste with salt and pepper and sprinkle with freshly torn basil.
9. When the sauce is almost done, rinse the zucchini noodles and gently squeeze out any excess water. Pat dry with a kitchen towel.
10. In a separate pan, warm a scant teaspoon of olive oil over medium heat. (Again, feel free to dry sauté the noodles if you want to make this dish completely oil-free!). Add the zucchini noodles and sauté for a couple of minutes until the noodles have just begun to brown and wilt. Season to taste with salt and pepper.
11. To serve, place a mound of noodles in bowl, top with the Pomodoro sauce and eat immediately!
For more of Reshma's recipes, visit her blog The Family Table.