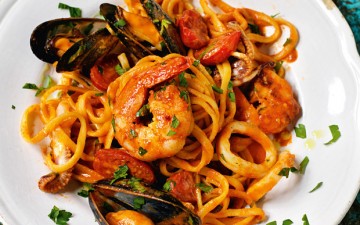 Several readers may have already dined at Marie's Italian Deli in Chatham, owned and operated since 2011 by husband and wife team Carl and Marie.   But have you had a chance to check out their new Madison location, which opened in February 2016?   Welcome to Marie's Italian Specialties & Seafood.
I headed out for a birthday celebration last Friday evening with six of my girlfriends.  We met up at Stryxe, place was packed with a wait list on lanes, so we decided to opt for Plan B; which meant securing a last minute dinner reservation. I love seafood, and suggested Marie's Madison location, luckily they were able to squeeze us in.  Chatham and Madison are both BYOB restaurants, so Kathy ran to the nearest liquor store to grab a few bottles of wine and off we went.
Although larger than the Chatham location, this is a small, friendly, casual restaurant with less than 15 tables situated close together. If you grew up in the area, you'll most likely run into a familiar face, adding to the already cozy family-like ambiance.
Once seated, we perused the chalkboard menus displayed on the walls. In addition to the regular menu items, daily specials are posted. Appetizer portions are large and can easily be shared.  A well-known popular appetizer are Marie's Famous Arancini (Italian rice balls), so those were a given.   In addition, we ordered baked clams, tossed salad, and broccoli rabe.  So far so good, everyone is happy and enjoying the appetizers.
For entrees, it was a mixed bag. Karen ordered the Marie's Seafood Salad appetizer as her meal, which worked well as the portion size was enough to feed one person.  I stole some of her shrimp and they were delicious.  Fresh and light, simply prepared with lemon and fresh herbs.  The Pork Bragiole Ragu with Rigatoni was another hit.   Kathy and Monica split one of the hot sandwiches.  Personally, I love that if you're craving a sandwich for dinner you can have one.  The mouth watering sandwich menu is available for lunch as well as dinner.  I opted for one of the fresh seafood specials, roasted branzino.  Not for the squeamish, this dish is served in it's entirety!  It was delicious, and came with a side of creamy polenta and garlicky broccoli rabe.
As if that was not enough, at the conclusion of our meal the waiter approached with a mini cannoli complete with 1 birthday candle, and I was happily serenaded. Didn't hurt that we had friends seated at the table behind us who joined in. I rarely eat pastries, but the cannoli shell was crunchy and fresh, and the filling was delicious.
Convenient location, abundance of food, (some of us leaving with doggy bags), at a cost of just $25 per person. You can't beat that!
Remember to call ahead for reservations.
Marie's Italian Specialties & Seafood is open 7 days a week – 6 Elmer Street, Madison
Monday through Thursday from 11am to 9pm
Friday and Saturday from 11am to 10pm
Sunday from 12pm to 8:30pm
Take out and online ordering is also available.
Menu http://www.mariesdelimadison.com/menu.html