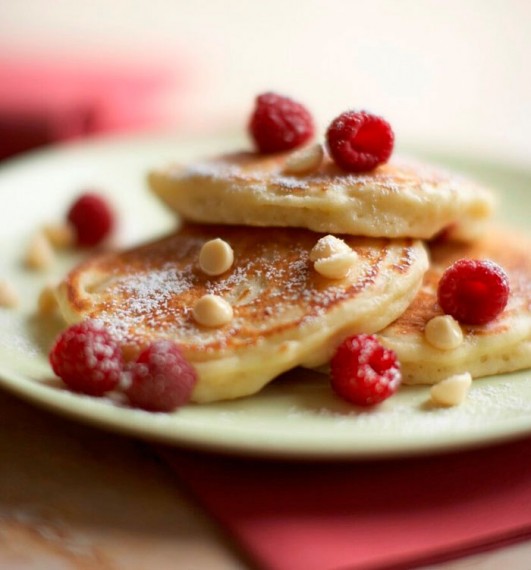 White Chocolate & Raspberry Brunch Pancakes

For those of you who know me, saying I'm not much of a cook is being pretty generous.  For the times I do cook, which are pretty few and far in-between, I stick to the basics. Luckily for me, my kids love pancakes and think it's the coolest thing when we have them for dinner. I found this great pancake recipe at Nordstrom (go figure).  Trust me, if I can make it, so can you.

Size:

Serves 4



Ingredients:
1 1?2 cups all-purpose flour
3 tablespoons sugar
2 teaspoons baking powder
1?4 teaspoon fine sea salt
1 cup whole milk
2 large eggs, lightly beaten
3 tablespoons unsalted butter, melted and cooled, plus more for the griddle
1 pint raspberries
1 cup (6 ounces) white chocolate morsels
Powdered sugar for dusting



Directions:




Preheat the oven to 200ºF. Line a rimmed baking sheet with a clean kitchen towel, and have a few more towels ready.

In a large bowl, sift together the flour, sugar, baking powder, and salt. Make a well in the center. In another bowl, whisk together the milk, eggs, and butter, and pour the mixture into the well. Stir just until blended but still slightly lumpy. If the batter seems too thick, thin with a little water.

Heat a griddle or large, heavy nonstick skillet over medium-low heat until very hot. A few drops of cold water splashed on the bottom should dance across the surface. Lightly grease the griddle with butter. Using 1 ?3 cup batter for each pancake, pour the batter onto the griddle, creating pancakes about 4 inches in diameter and being careful not to crowd the griddle. Cook until bubbles just begin to appear on the surface, about 11 ?2 minutes. Scatter about 4 raspberries and 7 white chocolate morsels over the top of each pancake. Cook until the pancakes are golden brown on the undersides, about 1 minute more. Turn the pancakes over and cook until the second sides are lightly browned, about 1 minute more. Transfer the pancakes to the baking sheet, cover with a towel, and keep warm in the oven. Repeat with the remaining batter, raspberries, and chocolate morsels, separating the layers of pancakes with the towels.

Arrange the pancakes on warmed plates, and scatter the remaining raspberries and chocolate morsels on top. Using a fine-mesh sieve, dust with powdered sugar, and then serve immediately.