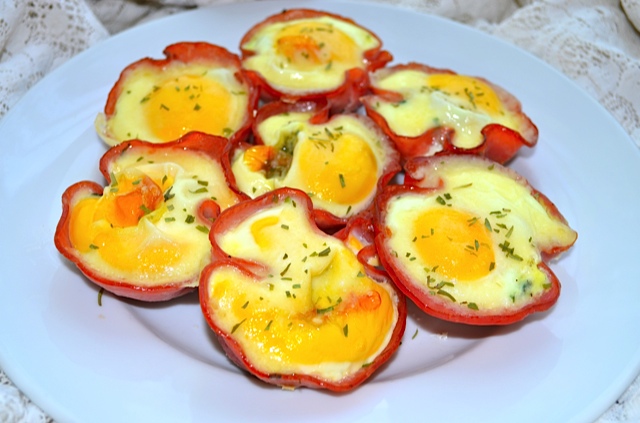 prepared by and photo by Emily S. Downs

With the bite-sized food craze going on, it only seems fit to serve eggs the same way.  Something about a muffin sized anything gets even the kids to try it.  For those with a mature palette, you may want to pour on a dose of Blender Béarnaise Sauce.

Size:

serves 6



Ingredients:
Unsalted butter
12 thin ham slices, about 8 oz
1 (10 oz) package frozen chopped spinach, thawed and drained
Salt and freshly ground black pepper
12 eggs
3/4 cup finely shredded cheddar cheese
Blender Béarnaise Sauce (recipe linked below)



Directions:




Preheat oven to 375F.  Butter a 12-cup muffin tin.  Place a slice of ham into each muffin cup and press to form a cup.  Divide spinach equally among cups, about 1 tbsp each.  Lightly season spinach with salt and pepper.  Crack an egg into each cup, being careful not to break the yolk.

Bake for 10 minutes.  Top each egg with 1 tbsp grated cheese.  Return to oven for an additional 5 minutes, or until the cheese has melted.

Using a heatproof spatula, carefully remove the Florentine cups from the muffin tin.  Serve immediately. (I have let any extra muffins cool, then wrapped, and refrigerated to serve next day.  Warm in microwave for a bit to re-serve)

For those who want to dress the muffins up, serve with Blender Béarnaise Sauce.