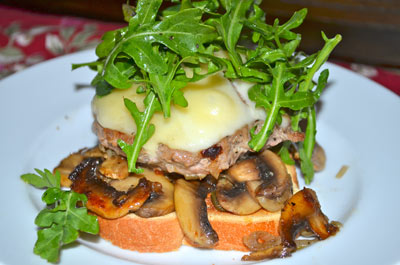 prepared by and photo by Emily S. Downs

A little something from each of the food groups is represented in this pretty little package.  Serve fresh cut-up heirloom tomatoes along side, sprinkled with fresh ground black pepper.

Size:

Makes 4



Ingredients:
20 oz ground turkey
6 tbsp olive oil, divided
1 tsp (scant) salt
1/2 tsp ground black pepper
4 slices country-style bread, toasted
Mayonnaise
1 lb mushrooms, sliced
4 shallots, sliced
2 large garlic cloves, chopped
4 thin slices Gruyere cheese
2 tsp white wine vinegar
2 cups thinly sliced arugula



Directions:




Mix turkey, 2 tsp oil, salt, and pepper in medium bowl.  Shape into four 1/2″ thick patties. Place 1 toasted bread slice on each of 4 plates; spread each with mayonnaise.

In two separate skillets, heat 2 tbsp oil in each over medium-high heat.  Add 1/2 mushrooms, 1/2 shallots, and 1/2 garlic in each skillet; saute 2 minutes, then push to side of skillet.  Add 2 turkey patties to other side of each skillet.  Cook until brown on bottom, about 4 minutes.  Turn patties over; top with cheese.  Cook until patties are cooked through, cheese melts, and mushrooms are brown, stirring mushrooms often, about 4 minutes.  Season mushrooms with salt and pepper.

Meanwhile, whisk vinegar and 4 tsp oil in small bowl, mix in arugula.  Sprinkle with salt and pepper.

Spoon mushrooms onto bread; top with patties and arugula salad.