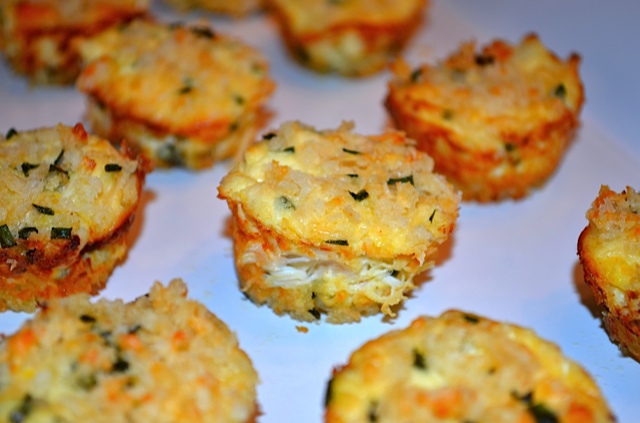 prepared by and photo by Emily S. Downs

Love these as an appetizer or for lunch served with a small salad.

Size:

makes 24



Ingredients:
8 oz cream cheese, room temperature
1/4 cup finely grated Parmesan cheese, divided
1 large egg
1/4 cup sour cream
1 tsp finely grated orange peel
1/2 tsp finely grated lemon peel
4 tsp plus 2 tbsp chopped fresh chives, divided
1/4 tsp coarse kosher salt
Large pinch of cayenne pepper
6 oz fresh lump crabmeat, picked over, patted dry, coarsely shredded
1 cup panko (Japanese breadcrumbs)
1/4 cup (1/2 stick) unsalted butter, melted, plus more for pans
Fresh chives, cut into pieces



Directions:




Using electric mixer, beat cream cheese in medium bowl until smooth.  Add 1/4 cup Parmesan and egg; beat to blend.  Beat in sour cream, citrus peels, 4 tsp chopped chives, coarse salt, and cayenne pepper.  Fold in crabmeat. (Can be made 1 day ahead.  Cover and chill.)

Preheat oven to 350F.  Generously butter 2 mini muffin pans.  Toss panko, 1/2 cup Parmesan, and 2 tablespoon chopped chives in small bowl.  Drizzle 1/4 cup melted butter over, tossing with fork until evenly moistened.  Press 1 rounded tablespoon panko mixture into bottom of each muffin cup, forming crust.  Spoon 1 generous tablespoon crab mixture into each cup.  Sprinkle rounded teaspoon of panko mixture over each (some may be left over).

Bake crab cakes until golden on top and set, about 30 minutes.  Cool in pans 5 minutes.  Run knife around each cake and gently lift out of pan.  (Can be made 2 hours ahead.  Arrange on baking sheet; let stand at room temperature.  Rewarm in 350F oven 6-8 minutes.)

Arrange crab cakes on serving platter; sprinkle with chives.