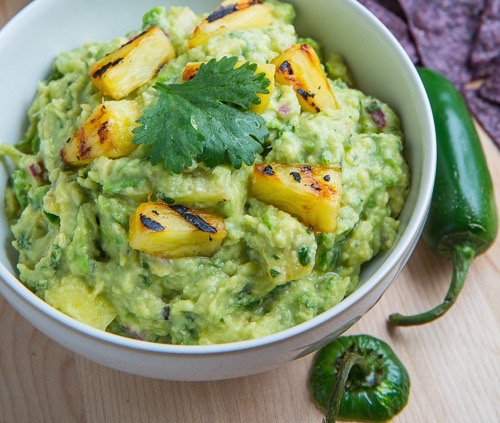 photo creds: closetcooking.com

When you serve this guacamole your guests will wonder what's making it sweet. When you tell them its piña colada guacamole, their faces brighten up and they all make this sound… ohhh… hmmmm… yumm! And it is. Serve with chips or alongside shrimp tacos, etc.
This guac is as versatile as you make it. Push the boundaries. Push the border.

closetcooking.com never disappoints me and I can only hope by my passing their recipes along to the Tips fans, you aren't either.

Size:

4 servings



Ingredients:
2 large avocados, mashed
1/2 cup pineapple, diced (awesome grilled)
2 tbsp coconut cream (Coco Lopez)
1 tbsp rum (substitute: 1 tsp rum extract)
1 tbsp lime juice
1 jalapeno pepper, finely diced
Slice of red onion, diced
1 tbsp cilantro, chopped
Salt and pepper to taste



Directions:




Mix everything together and dig in!