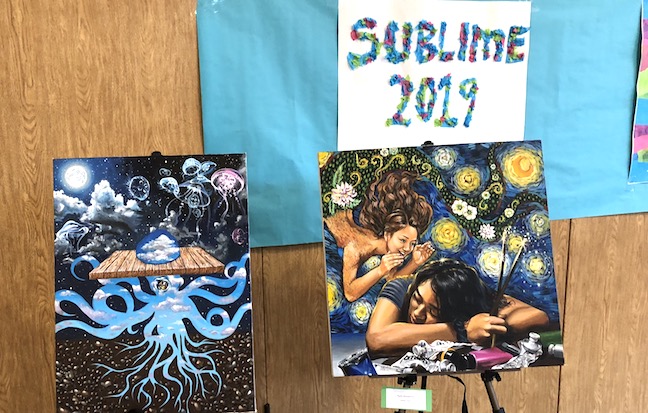 Also read New Ridgewood Openings: Going Vegan!
In case you missed it, Ridgewood High School students Sophia Swanson and Jack Shigeta hosted Sublime 2019, their 6th ARTBeat event, on Sunday, March 31 at the Ridgewood High School Campus Center. Ridgewood High School students in grades 9 through 12 submitted artworks for display in  Sublime's gallery space giving Ridgewood residents a chance to marvel at Ridgewood talent.
While visitors milled through the gallery space, they enjoyed to live tunes courtesy of Ridgewood High School musicians. This year, Sublime surprised visitors with an interactive display so that could make their own mark on the event.
This is ARTBeat's second event of the year and second annual Sublime event. Ridgewood ARTBeat is a student-run club dedicated to providing spaces for student musicians and artists to share their talents with Ridgewood residents. Sublime 2019 will be ARTBeat's 6th event since the club's founding in 2016.