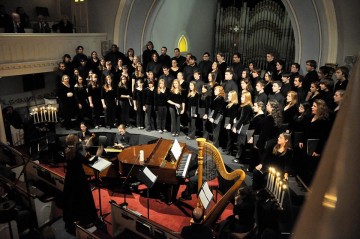 Get in the spirit by listening to beautiful music by candlelight on Sunday, December 6 at 4:30 pm for Ramapo's College's Holiday Concert. Ramapo Chorale, CantaNOVA, Skylark and Take10 have been hard at work rehearsing for their "Pathways" concert featuring musical landscapes of the 18th century. Ridgewood Director Lisa Lutter says, "Through the visions of contemporary composers, with poetry from 5th century Japan, Ghenghis Khan and Gaelic legend to Yeats, Kahlil Gibran and Sara Teasdale, this concert with voices, harp and strings will take you on an unforgettable musical journey. New arrangements of holiday favorites wrap up the evening with a bright bow." The show will be performed at Old Paramus Reformed Church.
Tickets are on sale in The Berrie Center. $5 students/$15 adults.
For more info, email Lisa Lutter at llutter@ramapo.edu or call 201-684-6265.