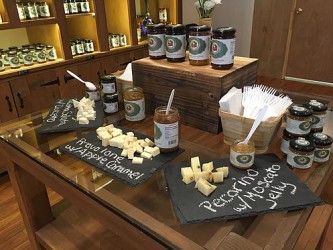 Healthy Italia Grand Opening
Healthy Italia La Buona Cucina, 55 Main Street, Madison
Saturday, May 21 from 10:00am to 5:00pm

Join Healthy Italia – La Buona Cucina in downtown Madison as they celebrate their Grand Opening on Saturday, May 21.
Although the Specialty Italian Market had a soft opening in early March, finishing touches were still being made to the adjoining Cooking Studio.  As part of the Grand Opening ceremony, guests are invited to take a look at the new Cooking School and register for classes, which begin in June.  http://www.healthy-italia.com/calendar/
Taste a variety of unique hand picked Italian products that can only be found at Healthy Italia.  Something I think is worth mentioning: they now carry fresh burrata and mozzarella.  I believe the weekly shipment arrives from Naples every Thursday.  I bought one over the weekend and it was so creamy and delicious.  Served it with slice tomatoes, olive oil, and balsamic.  Outstanding!
The agenda for the day's festivities are as follows:
11:00am: RIbbon cutting folllowed by Prosecco toast
10:00am-12:00pm: Espresso with gluten-free muffins, crostatina and mascarpone cheese
12:00pm-2:00pm: Risotto cooked on site
2:00pm-3:00pm: Homemade focaccia
3:00pm-6:00pm: Wine tasting with Cambridge Wines of Morristown, paired with cheese and wine jellies, and various antipasti
Enter to win amazing prizes including a basket of products, and the Grand Prize — a private event in the Cooking School for up to 18 people (max value $2,250)
Visit their Facebook page to print Healthy Italia's add and receive $10 off of a purchase of $50 or more
https://www.facebook.com/healthItalia/?fref=ts