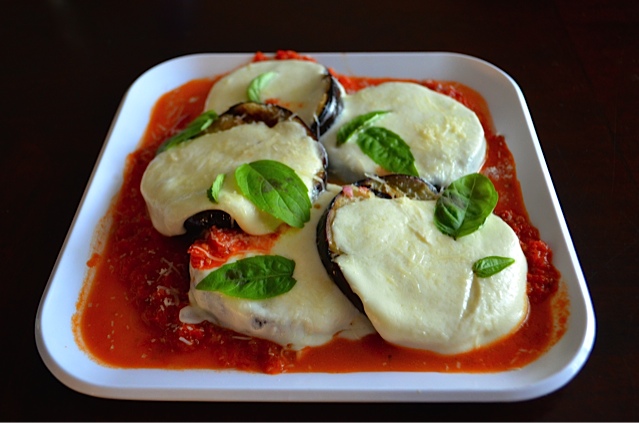 prepared by and photo by Emily S. Downs

Grilled tomato sauce is quite something! Double this recipes sauce ingredients so there is extra to serve over a big bowl of pasta for dinner the next evening. I'm thinking also, that with a bit of altering, this recipe would also work for grilled chicken Parmesan. Grilled anything works!

Size:

4 servings



Ingredients:
2 (1 lb) eggplants
1/4 cup plus 3 tablespoons extra virgin olive oil
1 tsp sea salt, divided
3 tbsp fresh lemon juice
1 large shallot
8 (10") bamboo skewers
2 pints cherry tomatoes
1 garlic clove, halved
1/2 tsp balsamic vinegar
1/4 tsp dried crushed red pepper
1 lb fresh mozzarella, cut into 20 slices
2 tbsp grated fresh Pecorino-Romano cheese
Fresh basil leaves



Directions:




Cut eggplants crosswise into 20 slices about 3/4″ thick; place in a 13 x 9″ baking dish.

Whisk together 1/4 cup oil, 1/4 teaspoon sea salt, lemon juice, and shallot. Pour mixture over eggplants, turning to coat. Marinate 30-45 minutes. Meanwhile, soak bamboo skewers in water 30 minutes.

Preheat grill to medium-high heat (350-400F). Thread tomatoes on skewers; brush with 1 tablespoon oil. Grill 8 minutes, turning once.

Combine grilled tomatoes, garlic, vinegar, red pepper, 1/2 teaspoon sea salt, and remaining 2 tablespoons oil in a food processor. Pulse until a chunky sauce forms.

Grill eggplant slices 5 minutes. Turn over, and sprinkle with remaining 1/4 teaspoon sea salt. Top each eggplant slice with 1 mozzarella cheese slice, and grill 5 minutes or until eggplants are tender and cheese begins to melt. (Stick under broiler for a bit to get that charred cheese look.)

Pour tomato sauce onto a serving platter. Top with eggplants, and sprinkle with Pecorino-Romano cheese and basil.