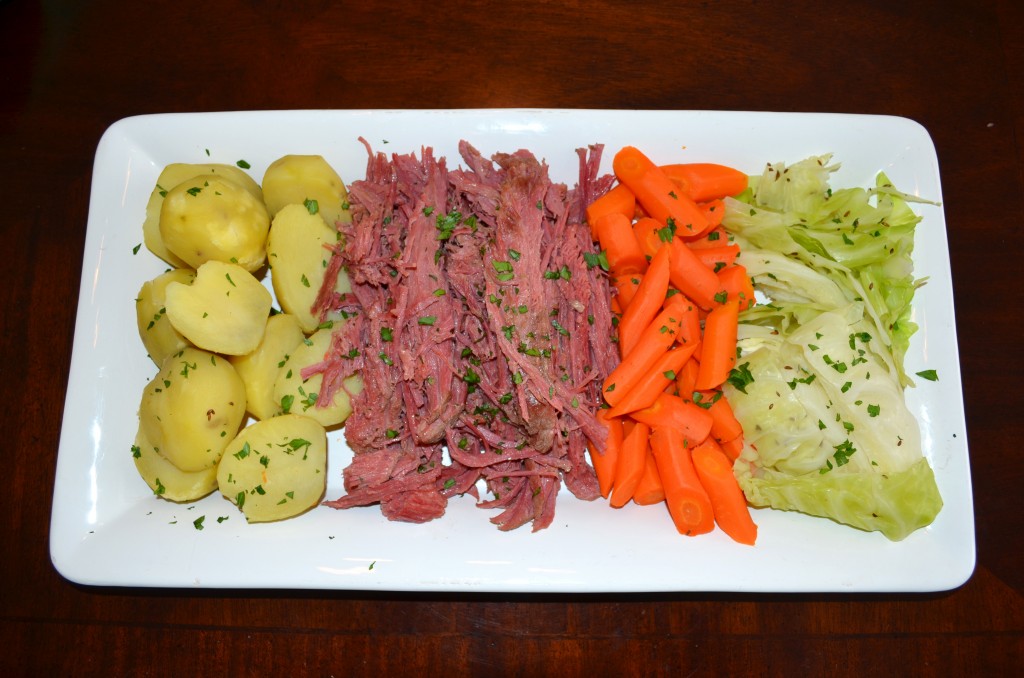 prepared and photographed by Emily Doscher

Simple and to the point. This no-nonsense corned beef and cabbage dinner is perfect as is the first night and even better the nights to follow, in re-purposed combos… Gooey Grilled Corned Beef Sandwiches and/or Corned Beef & Cabbage Rolls.

Size:

8 servings



Ingredients:
1 orange
10 whole cloves
1 4 1/2 lb corned beef brisket, rinsed
3 tsp caraway seeds
3 lbs small Yukon Gold potatoes, peeled
2 1/2 lbs large carrots, peeled, cut crosswise into 2" lengths
1 large head green cabbage, halved lengthwise, each half cut into 8 wedges
Chopped fresh parsley
Horseradish Cream
Guinness Mustard



Directions:




Stud orange with cloves.  Place in very large pot.  Add corned beef (and spice packet if included with corned beef), 2 tsp caraway seeds and enough water to cover.  Bring to boil.  Reduce heat to medium-low, cover and simmer until beef is tender, about 3 hours 45 minutes.  Drain, reserving 3 cups cooking liquid.

Meanwhile, bring large pot of salted water to boil.  Add 1 tsp caraway seeds, then potatoes and carrots.  Cook until potatoes are almost tender, about 30 minutes.  Add cabbage; cook until just wilted, about 8 minutes.  Drain.  Keep warm.

Slice corned beef; arrange on platter  Surround with vegetables.  Sprinkle with parsley.  Serve, passing cooking liquid in sauceboat and mustards separately.