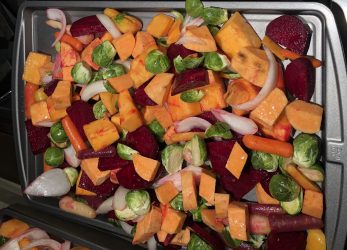 I love making winter vegetables this way and using as a side, over rice, or as in this recipe, over quinoa.
Ingredients:
Roasted Vegetables
(this will make two cookie sheets in one layer)
1 lg package chopped butternut squash
3 sweet potatoes (peeled and chopped into large bite sized pieces)
4 beets (peeled and chopped into large bite sized pieces)
1 pkg baby colored carrots
3 medium yellow onions each cut into 6 -8 pieces (the way you'd cut an apple)
1 bag small brussel sprouts ends cut off and cut in half
1 bag of kale
2-3 tbsp olive oil
salt and pepper to taste
16oz dry quinoa (make according to directions, for added flavor, add one chicken bouillon for every 2 cups water)
Preheat oven to 375
Combine all ingredients other than quinoa and kale in a large bowl until coated with oil, salt and pepper.
Spread evenly on cookie sheets and bake for about 15 minutes.
Add kale and mix and flip veggies so all sides are roasted evenly.
Cook another 10 minutes.
Meanwhile, make quinoa according to package directions.
Spoon cooked quinoa into bowls and top with roasted vegetables.