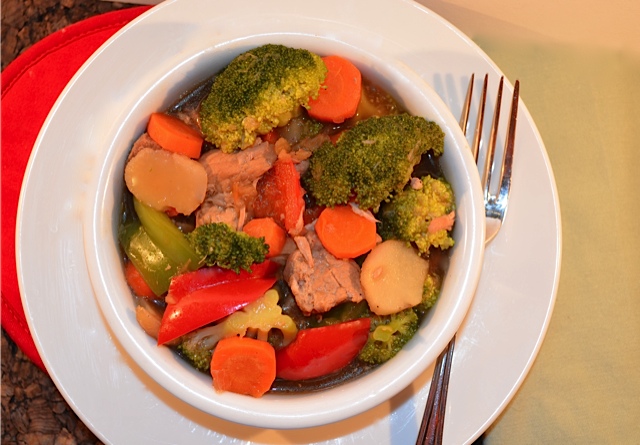 prepared by and photo by Emily Doscher

Entice your family to a sit-down meal tonight.  Not an easy task with the busy schedules of today, but as this stew simmers, you may already find them waiting with anticipation seated at the dinner table.

Size:

4 servings



Ingredients:
1 lb pork stew meat, cut into 3/4" cubes
2 tbsp cooking oil
2 1/2 cups water
1 medium onion, cut into thin wedges
1/3 cup dry sherry
3 tbsp soy sauce
1 1/2 tsp grated ginger root
1/2 tsp sugar
1 1/2 cups broccoli flowerets
1 cup thinly sliced carrots
1 large sweet red or green pepper, cut into 3/4" pieces (1 cup)
1 (8 oz) can sliced water chestnuts, drained
1/4 cup water
3 tbsp cornstarch
Soy sauce



Directions:




In a large saucepan or Dutch oven brown pork, half at a time, in hot oil.  Drain fat from pan.  Return pork to saucepan.  Stir in the 2 1/2 cups water, onion, dry sherry, 3 tablespoons soy sauce, ginger root, and sugar.  Bring to boiling.  Reduce heat and simmer, covered, for 45 minutes to 1 hour or until meat is tender.

Stir in broccoli, carrots, sweet red or green pepper, and water chestnuts.  Cover and simmer about 10 minutes or or until vegetables are tender.

Stir together the 1/4 cup water and the cornstarch; stir into soup.  Cook and stir until thickened and bubbly.  Cook and stir for 2 minutes more.  If desired, serve with additional soy sauce.