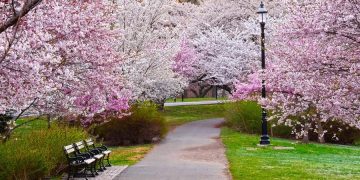 Did you know that New Jersey has more cherry blossom trees than Washington DC? And the largest cherry blossom collection is actually 20 minutes from Westfield! Branch Brook Park in Bellville has over 2,700 cherry blossom trees. They are in full bloom now and for the next week.
Each year the park offers many ways for visitors to take advantage of the amazing trees.
If you have some time today the park is holding Bloomfest. It is a family day to take advantage of the pink in the park. The day will be packed with children's activities, live music, a crafter's marketplace, food and more. Admission is free! It will be going on today, April 23rd,  from 11 am- 5pm.
And if you don't have time to make it over today, the park offers free self-guided cell phone walking tours by calling 973-433-9047 or a scan of the bar code at each tour stop unlocks a world of park history and horticultural information. There are some really cool things to learn about. For instance, did you know the park first adopted a pink and white hue in 1927, when Caroline Bamburger, of the famous department store, donated 2,000 cherry blossom trees to the Essex County Parks system in memory of her late husband?
And that Branch Brook Park also holds the distinction of being the first county park in the United States opened to the public, it was designed by the famed landscape architectural firm of Olmsted Brothers, a successor to Frederick Law Olmsted, the designer of Central Park in New York City.
Who knew this was right in our backyard!
Click here to learn more or by calling 973-433-9047.