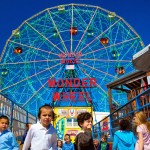 One of my favorite NYC excursions is a trip to Coney Island. I love the way it feels like old Brooklyn. I love sitting on the boardwalk and watching families strolling along talking and laughing. And I love the rides and sideshows. There's really no place like it.
When you go, don't miss:
• The Freakshow. This is last traditional sideshow performing in a circus or amusement. Be amazed (and a little freaked out) by the fire-eating man, the tattooed woman, sword-eating woman and a woman who walks on nails.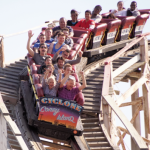 • The Cyclone. Take a ride on this famous 80 year old roller coaster.  Athough it's not as large as roller coasters at today's amusement parks, the fear is in the ricketiness! It's an all wood roller coaster!
• Grabbing a dog at Nathan's.
• The Wonder Wheel, a ferris wheel that was built in 1920.
• Ride the historic Carousel built in 1919 that features fifty hand-carved wooden horses
If you have some extra time, take a few hours to explore the Coney Island Aquarium, the only aquarium in New York City! You'll see sharks and sting rays, watch otters and penguins being fed and see a show at the Aquatheater.

If you're there on a summer evening, you can catch the Brooklyn Cyclones and watch a good old-fashioned baseball game. Or in July and August, catch a flick on a giant 40-foot inflatable screen at West 10th Street.
Check out more of our staff's favorite things to do in NYC