By Jenn Celiberti
The first impression is the only impression. Here are 5 easy ways to give your home curb appeal.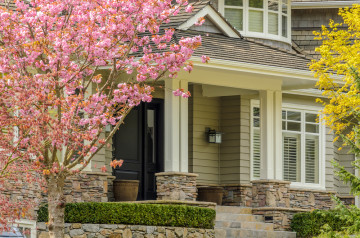 No matter how good the interior of your home looks, buyers have already judged your home before they walk through the door. You never have a second chance to make a first impression. Staging a home's interior has become the norm for many homes on the market across the country.  As a Realtor with an ASP Home Staging designation, I know that staging the outside of your home is as important as staging the inside.  Make no mistake, staging a home to sell, is not hiding things from buyers.  Rather, it helps the buyer really see the home.  You can't sell it if you can't see it. Here are just 5 of many tried and true steps to get the curb appeal you need to sell in the least amount of time for the market value. You can typically get a 100% return on the money you put into your home's curb appeal.
5. Spruce up your home's exterior by cutting back trees,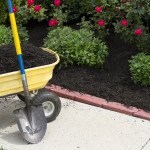 shrubs and anything that blocks the view to your home.  Add inexpensive shrubs where needed and perhaps add color accents with annuals.  Try using the same color and type of flower so that buyers see the house rather than be distracted by something too busy.
4. Manicure your lawn and re-seed where the grass looks thin and maintain crisp edging in garden beds. Oh, and by the way, Mulch can be your best friend…use it!!!!!!
3. Look at your Paint Job. Really look at it.  If it looks old and tired, do something about it.  If the home's paint is chipped or faded, give it a fresh coat. Pay particular attention to shutters, doors and trim.  Have a professional painter take a look.  They might just need to redo the trim and touch up.  This generally has a way of making it clear to buyers that the home is well-maintained.  (It also makes it look fabulous).
2. De-Clutter the outside of the property. Stand across the street and take a look at your house.  
Have a fresh set of eyes take a look.  Does it look clean and uncluttered?  If not, put tools, garden statues and toys away, and if needed, power wash the outside areas of your home, including paths, patios and driveways. Don't forget to wash windows to make them sparkle and let in light. This makes such a difference.  And don't forget to make sure your mailbox and front door look clean, free of spider webs and inviting.  Are the cars in the driveway?  Park cars in the garage–or even better, out of the way entirely.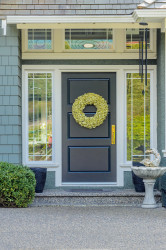 1. My buyer clients always pause at the door while I let them in, and I know that is generally the norm.   Buyers can linger on the stoop for as much as a minute. At that time buyers do develop a sense of how well the rest of the home will show and how well it is cared for.  Every step a prospective homebuyer takes toward your home is an important one.  As mentioned, front walkway and sidewalks should be clean and in good shape with no visible cracks, or damage. The same goes for the front stoop or porch. Take advantage of the opportunity to get top dollar!
When buyers drive up to your home, you want them to be excited to come in.  Pricing and staging sell houses.  Having a good agent who knows the area and how to price a home, together home staging can truly make a difference and give you the edge needed in today's market.  Whether you are thinking of buying, selling or want to know the value of your home, I am available at your convenience, and have many more important real estate tips to pass on to you!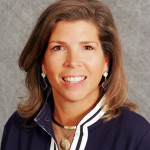 Jennifer Celiberti,
"All my Clients are my #1 priority"
"A Referral Is The Greatest Compliment"