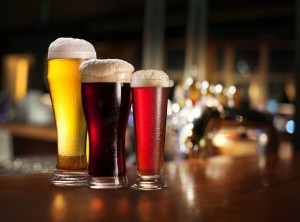 Aside from drinking beer, for the longest time the standard beer-infused fare has been beer battered fish. We have come a long way in the kitchen and now you can find limitless beer inspired recipes AND many of them are actually quite healthy (yet still tasty). Clearly, the hops and barley enthusiasts have taken this to a whole new level. Home brews to local and craft beers are now easily obtainable in grocery stores.  The average home chef can venture further with beer as an ingredient in their cooking. The unique flavors of the brew are infused into the foods they are mixed with, while the cooking or baking process burns off the alcohol. This means kids can dig in too!
So even if you're a purist, and nothing will do other than cracking open an ice-cold brew and drinking it straight up WITH your meal, you may want to give some of these a try.
Click here for a healthier slant on beer recipes from breads to entrees and even desserts. This site offers up many more beer-inspired recipes.
If you love your ale but are concerned about the empty calories that come with it, keep these little facts in mind: The main carbs in beer come from malted barley and hops with an average alcohol content ranging anywhere form 3 – 40%, yes, some of those home brews are pretty potent. But a general guideline is that the average 12 oz pale ale is 4-6% alcohol and 150. Finally, if you're really concerned about gluten but still want to enjoy your beer, click here for 10 gluten-free beers to try.