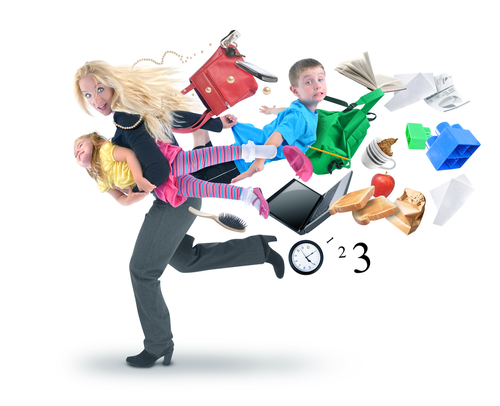 Summer is ending and school is looming over my head. One thing I do not miss about school is the crazy morning scurrying/panic trying to get ready and stay out of everyone way. Breakfast tends to be an afterthought, especially with my teen that often claims she doesn't have time as she runs out the door eating a crappy granola bar or crackers. This kills me because I know her diet throughout the day is worse and if she could just take the time to have a good start with a healthy, filling nutritious breakfast. So the trick is to find quick recipes or ones that can be made ahead and this is what I've come up with:
Quickies:
The key to quickie breakfasts is to ensure you always have the necessary ingredients on hand and that anything requiring prep is done the day(s) before (like hard-boiled eggs kept in the fridge).
Smoothies – make enough for 2 servings and store the extra for a snack later or breakfast the next day. It's not rocket science; just add frozen, unsweetened fruit to a liquid like coconut water (watch the sugary juices). Add protein powder, chia and flax seeds, some greens if you like and maybe cinnamon for additional flavor.
Smoothie Bowls – take your regular smoothie up a notch by putting it into a bowl and top with fresh fruit, nuts, seeds, coconut, etc for a heartier but still healthy meal.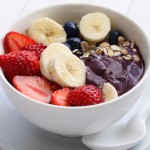 Open Sammie – whole grain/seed toast with mashed avocado and chopped hard-boiled egg (prepped ahead of time)
Protein Pancake Sammie – (pancakes made ahead of time, see below) cold or warmed, spread with your favorite "protein butter", add jam if you like and go.
Elvis Burrito – whole-wheat tortilla, spread with protein butter (sunbutter, almond butter, peanut butter, etc) and a whole banana – roll and go.
Make Ahead:
Overnight Mason Jar Oatmeal  – this is brilliant if you've ever tried to cook a nice hardy oatmeal for your kids on a cold school morning – it can be time consuming and (for me) messy. These can be prepared Sunday for the entire week. The premise is to add all dry ingredients to the jar (oats, dried fruit, seeds, protein powder etc, and the night BEFORE, add the wet ingredients (like coconut milk or add yogurt for a thicker texture) and let sit overnight in the fridge where the oats will absorb all the moisture and be ready to eat in the morning – just add fresh fruit or nuts.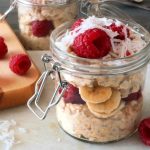 Mini Frittatas  – these are lovely as a grab and go breakfast when prepped ahead of time. Eat them cold or heat them in the microwave. So good you can pop them in their lunch box as well.
Protein Pancakes – there are loads of different recipes for this breakfast item. Use a pancake mix and add in your own protein powder or you can get very elaborate, from-scratch recipes. THIS one was chosen for its simplicity and low number of ingredients. Your protein powder is YOUR choice. If, like me you do not like the flavored stuff you can add flavor with vanilla or almond or lemon extract. Eat these hot off the griddle or store in the fridge for a day or two and reheat or eat them cold like a sandwich with sunbutter (for nut allergies or nut butter).
After several months of summer living, schedules and eating habits may be way out of whack, getting back into an efficient and healthy routine quickly can be critical to successful transition to the new school year. Making the most important meal easier for everyone will significantly aid in that shift. For more tips on how to help your kids make healthy adjustments to their back to school routine check out Nutritionist, Krista Harrison's back to school tips.