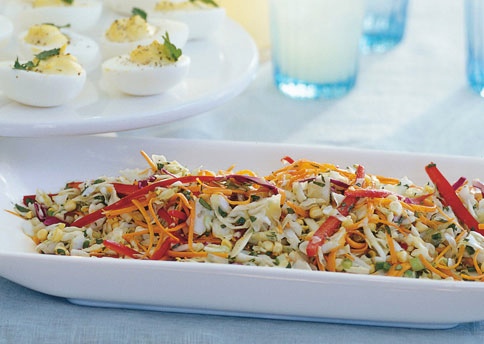 bonappetit.com

Confetti colored coleslaw brightens up the picnic table, as well as accompanies any and all your favorite summer inspired grilled entrees. Crisp and fresh ingredients enhanced with tangy orange cilantro dressing make this slaw extra tasty.

Size:

8 servings



Ingredients:
1/3 cup frozen orange juice concentrate, thawed
1/3 cup unseasoned rice vinegar
1/3 canola oil or vegetable oil
2 (8 oz) bags coleslaw mix
4 ears or fresh corn, shucked, kernels cut from cob
2 medium carrots, peeled, coarsely grated
1 medium red bell pepper, stemmed, cored, cut into thin strips
6 medium green onions, thinly sliced
1/2 cup chopped fresh cilantro



Directions:




Whisk orange juice concentrate, rice vinegar, and canola oil in small bowl Season with salt and pepper. (Dressing can be made 1 day ahead. Cover and refrigerate.)

Combine slaw mix, corn kernels, carrots, red bell pepper strips, sliced green onions, and chopped cilantro in large bowl. Toss with enough dressing to coat. Season slaw to taste with salt and pepper. Let stand 15 minutes for flavors to blend. Toss again and serve.