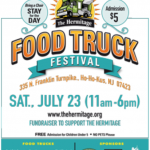 Don't miss this tasty event! Join us for the day or spend a few hours – it's going to be a fabulous event, featuring delicious tastes of the region from 11+ popular food trucks, live music, and a variety of terrific activities for the kids!
Spend the day, bring a blanket or chair, stroll the grounds, visit our Beer Garden and savor a number of unique microbrewery selections!
Pay at the Door – see you in July!
Saturday, July 23, 2016
11:00 AM to 6:00 PM
Admission: (includes guided tour of The Hermitage Museum)
• $5 adults / pp
• FREE for children 5 and under