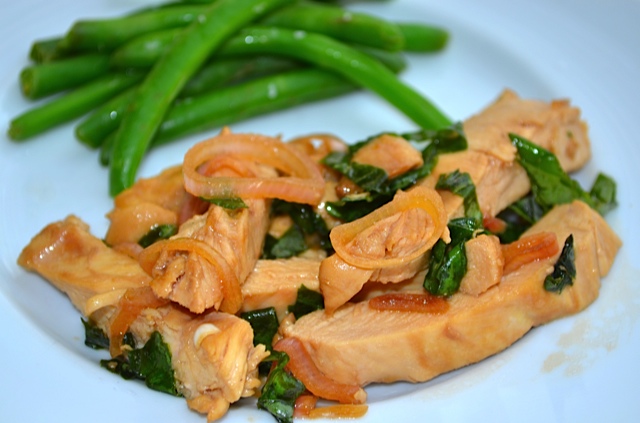 prepared by and photo by Emily S. Downs

Thirty minutes is about all you need to get this onto the dinner table( you do need to marinate for 30 minutes prior).  Just about any vegetable will do as a complimentary side.  Blanched green beans with a squeeze of lemon and sea salt… steamed carrots with fresh parsley and a little cracked pepper… you get the idea.

Size:

serves 4



Ingredients:
2 tbsp fresh lime juice (from 2-3 limes)
1 tbsp safflower or peanut oil
2 tsp low-sodium soy sauce
2 tsp sugar
1 large shallot, thinly sliced into rings
Coarse salt
2 boneless, skinless chicken breast halves (about 8 oz each), pounded to an even thickness (about 3/4")
1 cup basil leaves



Directions:




Stir together 1 tbsp lime juice, the oil, soy sauce, sugar, shallot, and 3/4 tsp salt in an 8″ square baking dish.  Add chicken; toss to coat.  Refrigerate for at least  30 minutes (can be marinated for up to 1 day).

Heat broiler.  Arrange chicken on top of shallots in dish.  Broil 8″ from heat source until lightly browned, about 7 minutes.  Flip chicken, arranging shallots around sides.  Broil until chicken is cooked through, 6-7 minutes more.  Let stand for 5 minutes.  Slice chicken crosswise.  Reserve the pan juices.

Transfer chicken and reserved pan juices to a bowl.  Toss with basil and remaining tablespoon lime juice.