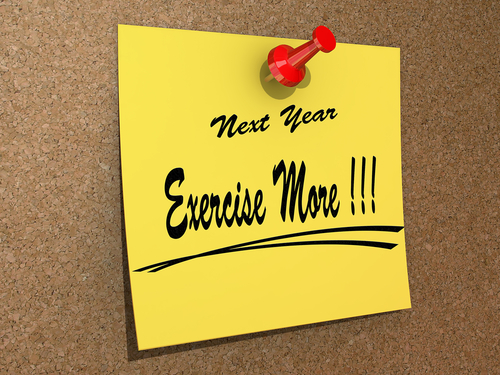 This move of the week is actually a combo with a 30-Day bonus. Here's a fitness resolution that is quick, requires no equipment and can be done anywhere, anytime so people – NO excuses! Here's how this works: 5 Moves that you do EVERY day for 30 days straight – no breaks. This is NOT a substitution for your current routine but an addition – it's fast and won't take up much time but it will burn some extra cals and get you moving a little more than usual. Start off with DAY 1 of 15 reps (or seconds) of each move; Day 2 – 16 reps; DAY 3 – 17 reps and so on for 30 days. Get your calendars out and mark it down ahead of time – don't allow for any excuses. DO this first thing in the morning, before you shower, at lunch,  or before bed.
Exercise 1 – Jacks
Exercise 2 – High Knees (15/leg)
Exercise 3 – Squats
Exercise 4 – Push Ups
Exercise 5 – Forearm Plank (hold for seconds rather than reps)
Notes: Always start off with the hardest version of each exercise and drop down to an easier one if needed – this is short but make it count. Add weight to increase the challenge.