The kick off to the holidays in downtown Summit!
You may still be eating those leftover turkey sandwiches, but downtown Summit is ready to welcome the holidays with a weekend of memory-making family activities.
It all starts Friday, December 4, with the downtown "Candlelight Stroll." Shops will be open late – many with special promotions for the evening – as Hilltoppers are invited to stroll through the downtown.  Costumed yuletide carolers will surely set the mood. At 5:00PM the tree in the Summit Promenade (next to MONDO) will be lit and at 6:00PM Jimmy from Artistic Creations, a local ice sculptor, will be at Lyric Park (corner off Bank Street and Beechwood Road.) Parents in need of a holiday "date night" can drop off their children at the YMCA for pizza and complimentary holiday activities from 6:00PM until 9:00PM. However, you must reserve a spot by calling the YMCA at 908-277-3330.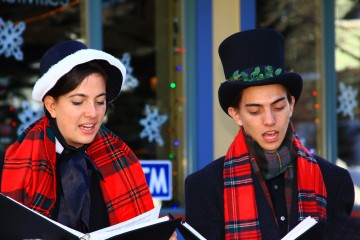 Then on Saturday, December 5, get ready to welcome Santa to Summit. Santa is hosting a breakfast at the Summit YMCA with 9:00AM, 10:00AM and 11:00AM seatings. Pancakes will be served and photos with the big man will be taken. Space is limited so please call 908-273-3330X1167 to reserve your spot.
Then in the afternoon, Santa, with his elves of course, will walk through Summit starting at 1:30.   Santa and the Mrs. will set up their "North Pole Party" at the Promenade from 2:00PM through 4:00PM. Children can meet Santa, and then enjoy holiday music as well as arts, crafts and activities provided by local non-profits. The Summit PAL will be providing complimentary hot chocolate and holiday treats –  for all who still believe! Children can also bring their letters to Santa, and place them in Santa's mail box which will be set up on the Promenade.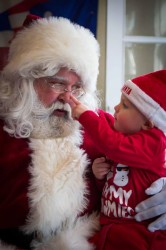 Don't forget the horse and buggy!  There will be free horse and carriage rides from 2:00PM until 4:00PM all starting at Lyric Park at the corner of Beechwood Road and Bank Street.
And don't be a Grinch! Since the holidays are also a time to think of others, remember to support BRIDGES  who will be collecting hats and gloves at the Promenade for those in need.
As we go through the season,  Santa will dining at Winberie's on December 13 and December 20. You just need to call the elves at 908-277-4224 to make your reservations.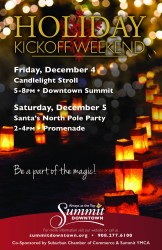 Many thanks to Summit Downtown, Inc. (SDI) for arranging many of these fun activities, as well as the YMCA, Suburban Chamber of Commerce and the Summit PAL. SDI is a nonprofit organization dedicated to the on-going development and promotion of the business community in downtown Summit.  For more information click HERE