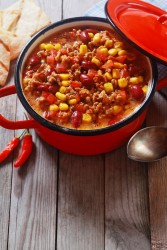 Calling All Cooks! Think your chili recipe is worth $1000? Then why not enter Meadowlands Homestyle Chili & Salsa Cook-Off? The event takes place Saturday, January 30 at 3:30pm at The Meadowlands. The Grand Prize winner receives a whopping $1,000! Runner up prizes are $500 and $250. There are no restrictions as to chili ingredients but chili must be cooked on-site. Cook-off takes place in the Food Court and cooking time is 3:30pm – 7:30pm.
Not a cook but love chili?  Enjoy free samples following the 8pm judging.
Meadowlands, 1 Racetrack Drive, East Rutherford, Bergen County, New Jersey, 07073.
For more information visit playmeadowlands.com.