Meet Melissa McCarthy. She is a high-achieving, beautiful wife and mother of two adorable, yet spirited children, ages 6 and 2 with a full-time career as a Rodan & Fields Consultant. After living in Hoboken, NJ for several years, she and her husband decided it was time to spread out a bit and settle into the suburbs. It's a choice many of us have faced. They moved to a pretty tree-lined street in Wykoff, NJ. And like most of us, Melissa wondered: now that two children are part of the equation, do I have to sacrifice style for function?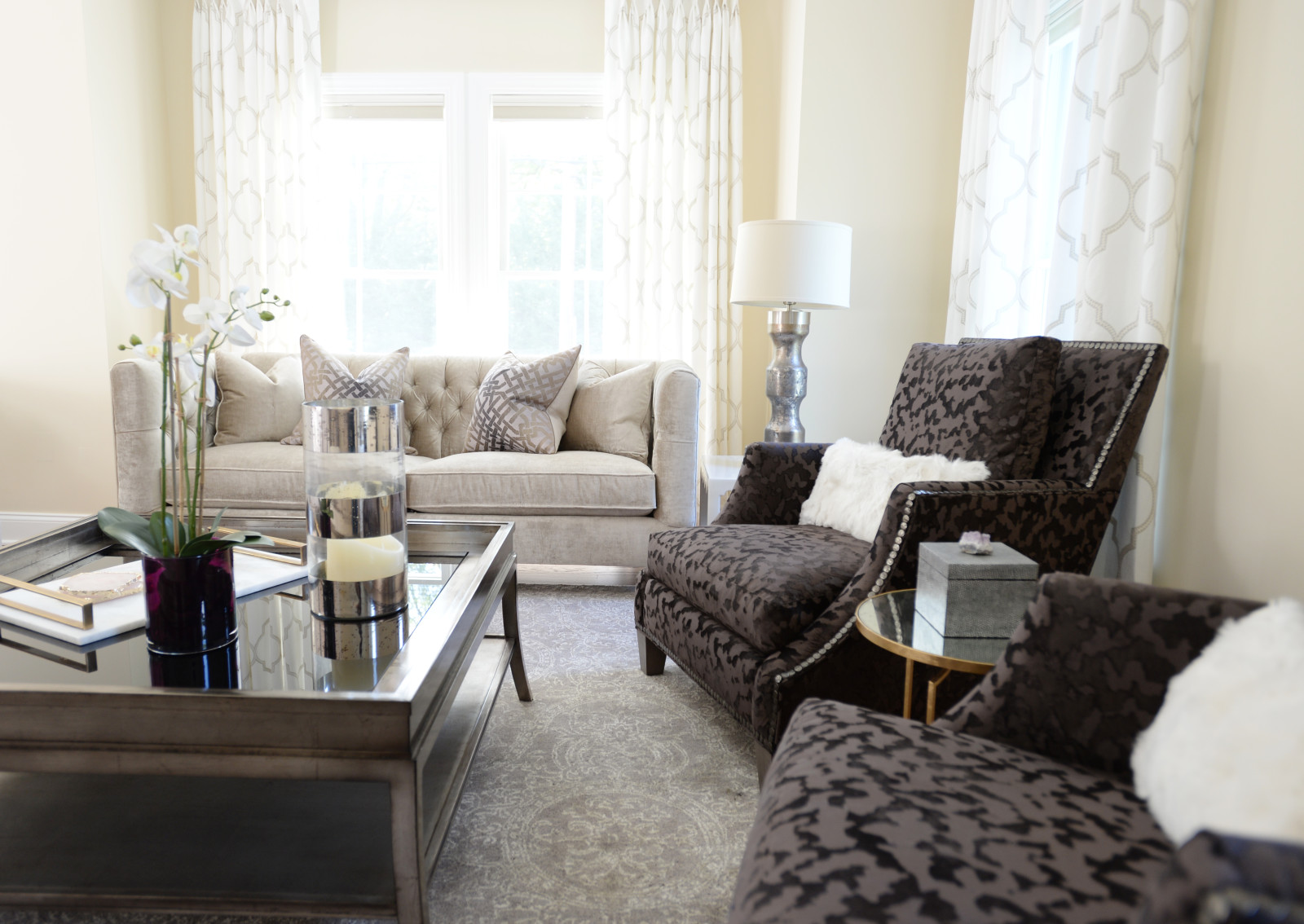 Krista Wostbrock of Wostbrock Home happily reassured her, "There are tons of ways to create a livable, functioning family home without sacrificing style." Krista had an ambitious challenge with the McCarthy home: a 100% makeover. In spaces that are kid-free, like the living room, Krista encouraged Melissa to splurge a little and treat herself to some glam. In these rooms, they were able to choose more luxurious fabrics.  She started with a large, square glass-topped table with a polished steel edges and a pale gray velvet, high-backed couch. Two wing chairs with studded lines finished the area created a comfortable yet sophisticated area that would encourage conversation when they entertain. And then there are the details that finish off the space like silky, woven pillows–or even fluffy fur pillows; opulent lamps, and metallic vases.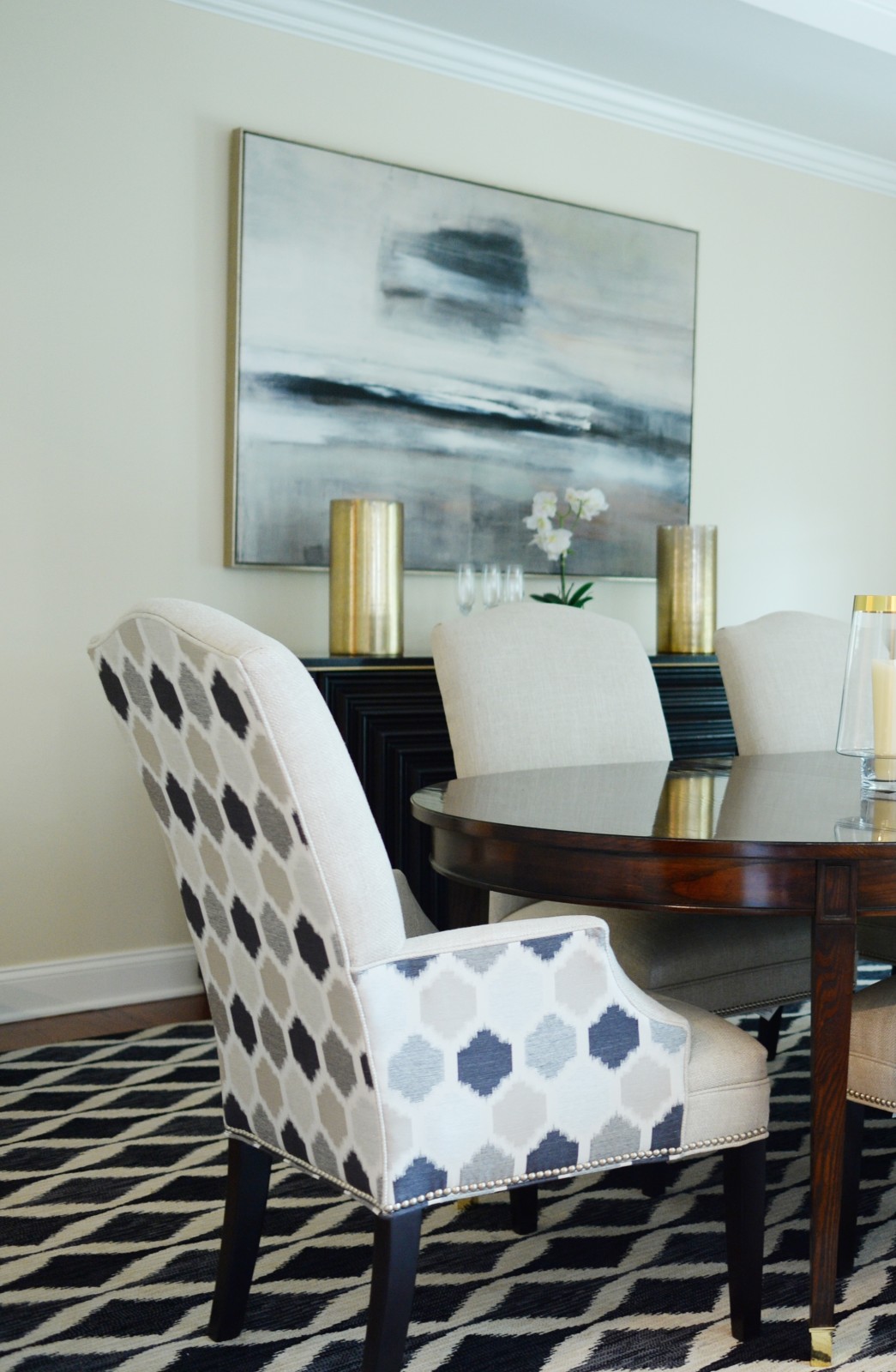 Krista used a neutral palette throughout the house to give the home a seamless look. Darker, heavier pieces, like the dining room buffet, give just the right amount of weight to airy rooms. We love the way Krista mixed materials like pairing the rich, dark wood of the console with warm-hued brass vases.
Krista carefully selected artwork that would make a statement and yet still have a classic feel. The artwork has a way of adding a layer of beauty while still blending in with the soothing palette and design of each room.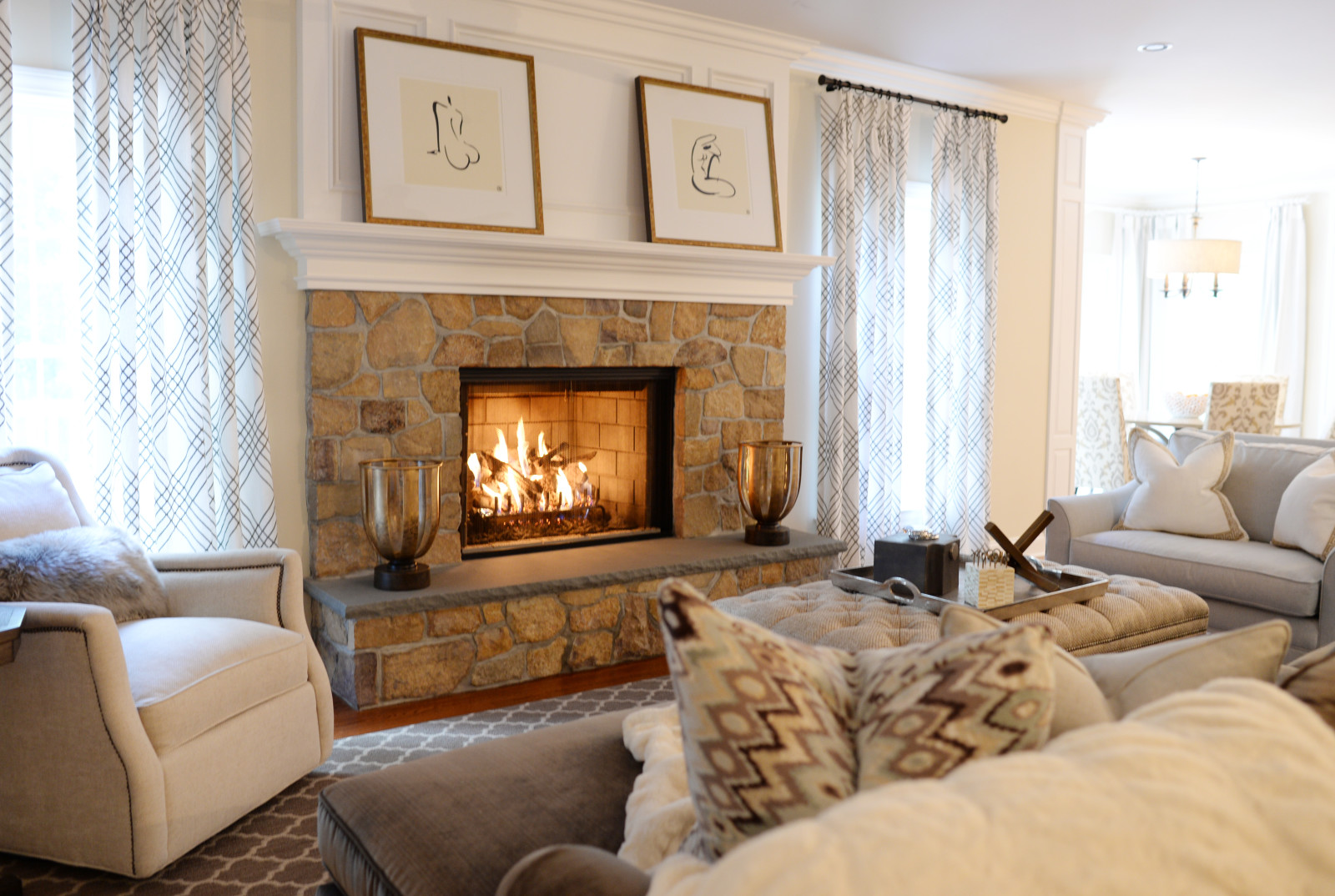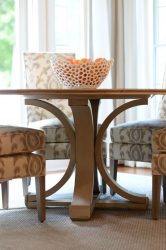 In the places where the family spends the most time, Krista chose fabrics that were practically indestructible. "For the major furniture pieces, like the sofa and kitchen counter stools, I suggested using more durable fabrics that have 100,000 double rubs or more." The family room is all about livability yet still doesn't sacrifice style or comfort. The sofa is velvety soft yet kid-proof.
So what's next on the list for the McCarthy family's home? They are concentrating on the front house and a few of the smaller spaces, like bathrooms. "We're starting to introduce wall coverings like metallic silks and grass cloths in her foyer," Krista explains. "We're also designing a formal powder room and adding a modern, vinyl metallic in her basement bathroom."
We can hardly wait to see it!
To create your own functionally fabulous home, shop Wostbrock.
Wostbrock Home, 225 Goffle Road, Ridgewood. 201-445-080
Or get a little help and have Krista Wostbrock create a look
that is unique and just right for your family.