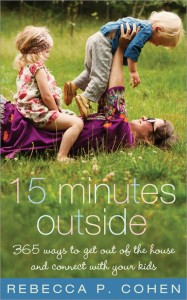 By
Rebecca P. Cohen
Year:
2011
Rating:
Purchase:
Buy Now!
What if you got outside every day, and what if you could get your kids to come along?
It sounds modest, but the effects, as dynamic outdoor spokesperson Rebecca Cohen herself can testify, are profound. This inspiring collection of activities gives families an idea for every day of the year, requiring little planning, no expertise and relatively little resources (time, cash, or patience!), no matter where they live.
This translates to:
1) bonding time with my children
2) cleaner house because we're outside!
3) getting the wiggles out
4) great health benefits
5) increased appreciation of nature
6) low to no cost entertainment … and the list goes on and on.