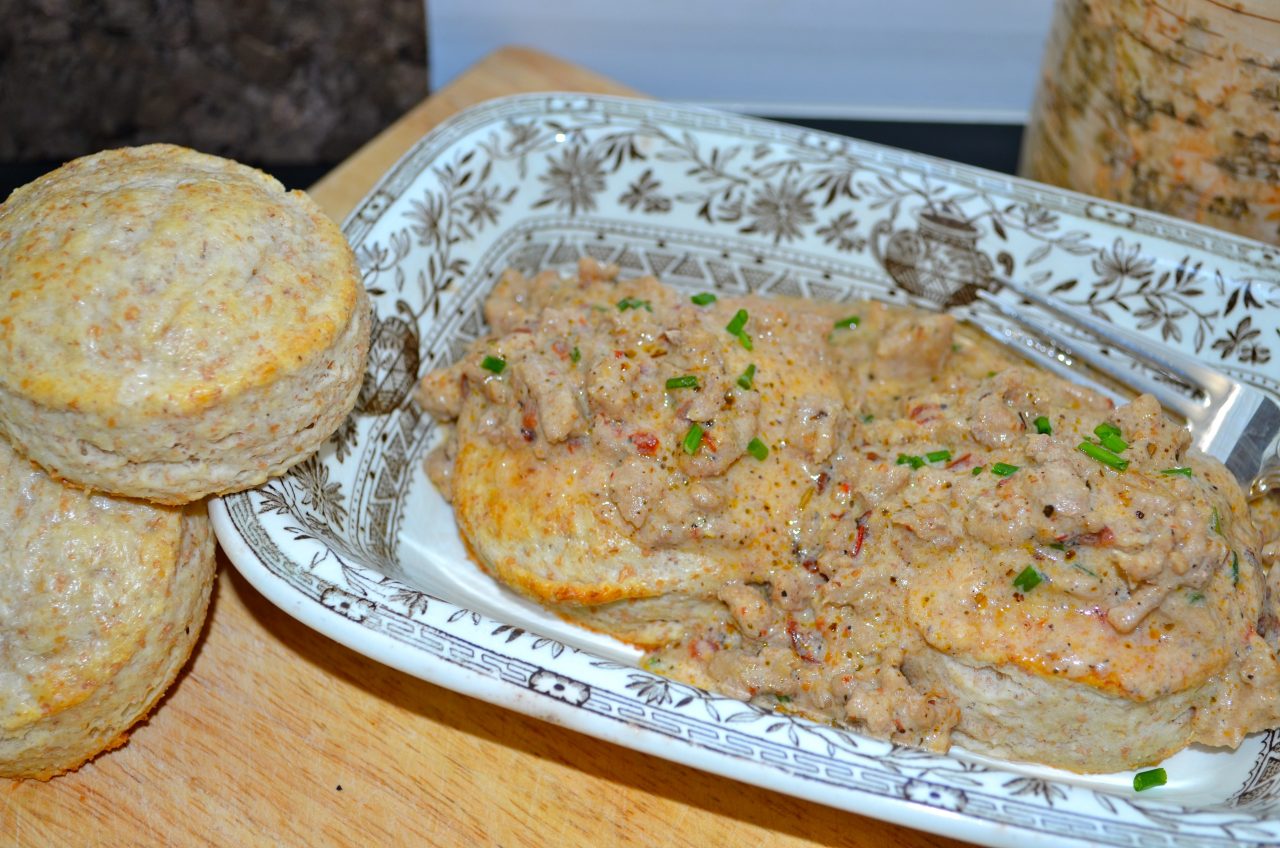 prepared by and photo by Emily S. Downs

These take all but an hour from start to table.  The recipe calls for chipotles, but if you aren't a fan of the heat they give, try eliminating them.  Not the same without them, but… If you add the chipotles, I recommend a tall glass of milk to cool things down.

Size:

6 servings



Ingredients:
BISCUITS:
1 1/4 cups all-purpose flour
1/2 cup whole wheat flour
1 1/2 tsp baking powder
1/4 tsp baking soda
1 tsp kosher salt
6 tbsp cold unsalted butter, cubed
3/4 cup buttermilk, plus more for brushing
GRAVY:
2 tbsp canola oil
1 lb lean ground turkey
2 tsp ground dried sage
2 chipotles in adobo, minced (optional)
Salt and freshly ground pepper
2 tbsp whole wheat flour
2 cups whole milk
2 tbsp snipped chives, plus more for garnish



Directions:




BISCUITS:  Preheat the oven to 425F.  In a bowl, whisk the flours, baking powder, baking soda and salt.  Using a pastry blender, cut in the butter until the mixture resembles coarse meal.  Stir in the 3/4 cup of buttermilk just until a raggy dough forms.

Turn the dough out onto a work surface and knead just until it comes together.  Roll out the dough 1/2″ thick and stamp out four 3″ rounds.  Gather the scraps and re-roll; stamp out 2 more rounds.  Place the biscuits on a baking sheet and brush the tops with buttermilk.  Bake for 20 minutes, until the biscuits are risen.

GRAVY:  In a skillet, heat the oil.  Add the turkey; cook over moderately high heat, breaking it up, until browned, 5 minutes.  Stir in the sage, chipotles, 1/2 teaspoon each of salt and pepper, and the flour; cook for 1 minute.  Add the milk and simmer, stirring, until thick, 5 minutes.  Add the 2 tablespoon of chives.

Split the biscuits, top with gravy, garnish with chives and serve.