3rd Annual Craft Fair
Saturday, November 21  •  10 AM – 4 PM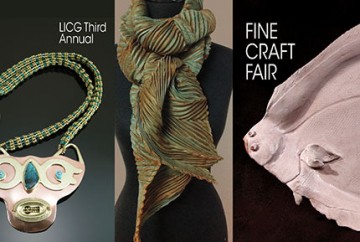 Start your holiday shopping this weekend at a juried show of fine craft by our members. Original pieces in glass, metal, clay, fiber and paper, in all price ranges.
The Ethical Humanist Society is two miles west of the Meadowbrook Parkway, next to the blue water tower. No admission charge; refreshments available.
Ethical Humanist Society of Long Island
38 Old Country Road, Garden City
http://www.licg.org/calendar.html
26th Annual Long Island Festival Of Trees 
Presented by United Cerebral Palsy Association Of Nassau County
November 27 – 29, 2015  •  10:00 – 7:00
This Event Is Renowned For Its Spectacular Array Of Designer-Decorated Trees And Gingerbread Village. Features Continuous Live Entertainment, Santa, Vendor Marketplace, Children's Activities, Department 56 Village And Display, And More! All Trees And Gingerbread Are For Sale. Visit The Ucpn Toy And Gift Shop For Great Bargains. All Proceeds Raised Benefit The United Cerebral Palsy Association Of Nassau County, Inc. And The Cradle Of Aviation Museum. Cradle Of Aviation, Charles Lindbergh Blvd, Garden City, NY
Opera: Steps to the Stage Presented by Music Librarian, Curator, & Archivist Tanisha Mitchell
November 22, 2015  •  1:30 – 3:30pm 
This lecture will discuss what opera is and how it developed over time. It will correspond with the Met's performance of each type of opera, sound clips of famous singers and scores from historic performances at the Met. Composer highlights include: Mozart, Verdi, Puccini and Wagner. Ms. Mitchell will use rare artifacts to teach and inspire! This entertaining and informative program is open to all and registration is not needed.
Garden City Public Library, 60 Seventh Street, Garden City, NY.
The Flying Dutchman
Nov. 22 at 2 p.m.
For more than 150 years, Richard Wagner's famed opera The Flying Dutchman has been captivating audiences across the world. Set along the Norwegian coast, legends tell of a ghost ship, The Flying Dutchman, captained by a man simply known as the Dutchman, who is cursed to wander the sea. This production stars international superstar Bryn Terfel as the Dutchman and is the first time he has been recorded performing this role, which has garnered him rave reviews from critics around the globe. $20; seniors, $15; Adelphi University alumni, staff, students and other students, $5. Adelphi University Performing Arts Center, 1 South Avenue. 516-877-4000; aupac.adelphi.edu.