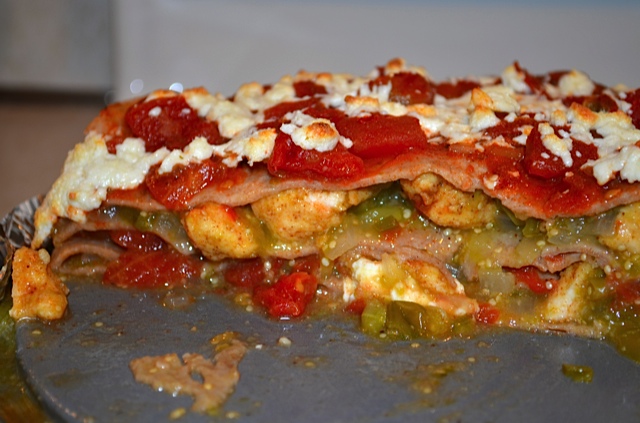 prepared by and photo by Emily S. Downs

Nice and light.  Not a lot of heat, and the chicken is very tender.  To complete this meal, be sure to serve a side of salad greens with Country Dressing.

Size:

serves 6



Ingredients:
1 whole boneless skinless chicken breast
1/4 cup yellow cornmeal
1/2 tsp chili powder
1/4 tsp salt
1 small onion, finely diced
2 cloves garlic, minced
1 1/2 lbs tomatillos, husks removed, rinsed, and cut into eighths
2 small jalapeno peppers, seeded and minced
4 eight-inch wheat tortillas
1 (14 1/2 oz) can diced tomatoes with chiles
1 oz queso blanco, grated (or substitute reduced-fat mozzarella cheese)
Olive-oil cooking spray



Directions:




Heat oven to 400F.  Cut chicken breast into 1/2″ cubes.  Combine cornmeal, chili powder, and salt; sprinkle over chicken.  Toss to coat, and place in a colander; shake off any excess cornmeal.

Heat a large nonstick skillet coated with olive-oil cooking spray over medium-high heat; add chicken.  Cook, stirring occasionally, until browned on all sides and cooked through, about 6 minutes.  Remove chicken from pan, and set aside.  Wipe pan with a paper towel; coat again with olive-oil cooking spray, and place oer low heat.  Add onion and garlic; cook until translucent.  Add tomatillos, jalapeno peppers, and 1/2 cup water; cover.  Cook until tomatillos are tender, about 20 minutes.  Remove lid; increase heat to medium high.  Cook until most of the liquid has evaporated, about 8 minutes.  Stir in chicken.

Place one tortilla in the bottom of an eight" spring-form pan coated with olive-oil cooking spray.  Place half the chicken mixture over the tortilla, and spread to coat evenly.  Place a second tortilla on top, cover with half the canned tomato mixture, and top with a third tortilla.  Cover with remaining chicken mixture and the last tortilla.  Spread remaining canned tomato mixture over the top, and sprinkle with cheese.

Place in oven; bake until golden brown, 25 to 30 minutes.  Transfer from oven to cooking rack for about 15 minutes.  Release spring-form; remove sides.  Cut into six wedges using a serrated knife.  Serve.