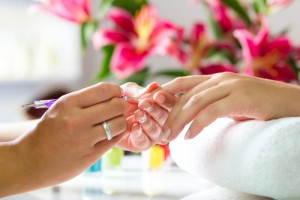 With the holidays right around the corner, consider getting a more permanent manicure. You will be busier than ever and have lots of social events to attend. Since this is also cold and flu season, the intensity of your hand washing will likely increase as well. I've stopped getting any color on my nails because they chip practically before I leave the salon.
According to Karin,  shellac may be the way to go.  
A shellac manicure is 21st century technology that uses uv light and specially developed polish technology to stay on your nails for at least 14 days.  The polish/gel will not chip, scratch, or smudge.  However, with the good there almost always is a bad- shellac contains the chemical methylpyrrolidone — wait, I thought this was the fashion page? — which is a chemical that is used to dissolve other chemicals.  I'm no scientist, but usually when you have a hard time pronouncing the word it's not good for you. And, you have to place your hands in a uv light to cure the color — think tanning bed for your hands.  You can protect your hands by applying sunscreen before you leave for the salon.  When you remove the shellac, your nails will be weaker than before.
But, your nails will be dry the second you get up from the chair, and you won't have to think twice about your nails for at least two weeks. OPI just came out with gelcolor, which is their version of shellac and is available in most of their colors.  A shellac or gelcolor manicure costs about $40 depending where you go….. my top pick… Kasia.