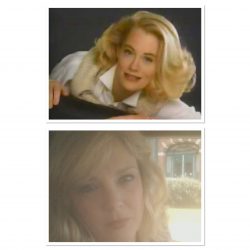 You know how they say some people walk around and the "Rain doesn't wet them and the Sun doesn't burn them?" Well, I lived that life. For quite awhile too. I looked in the mirror and believed I was aging gracefully–better than gracefully for that matter. And my girlfriends, well–one was more attractive than the next. We all had exceptionally good looking children, and our homes were Home and Garden perfect. No paint peeling, no little cracks in the foundation of the house, no blemishes whatsoever! How blessed was I? Incredibly blessed. I lived a perfect little life. Worked in a perfect little school with perfect middle school children.
All this changed on a routine visit to the eye doctor when I was told (gasp!) that I had cataracts in BOTH of my eyes! I would have to have them removed as soon as possible! Oh no! How could this be? I was only 43 years old!  Well, the appointment had to be made and my helpful 90 year old mom drove me to the hospital and held my purse as the procedure was done. She was very supportive–but not to the point of getting into the wheelchair when the orderly offered her a seat. He was stunned that we were there for ME and not HER!
The surgery went well. It actually went better the second time because that time, they gave me a delicious morphine drip that made me forget the fact that they were performing surgery on my EYEBALL AS I WATCHED!
The traumatic part happened upon my visit to get the bandages off. My dear friend, Diana drove me and made fun of my Roy Orbison goggles the whole drive there. That was okay, she was doing me a big favor. I appreciated her friendship that day and every day. Diana was one of the "perfect" people: blonde hair, blue eyes, a curvy figure and a spunky attitude that I wish rubbed off on me. We supported each other; all my girls were very good to do that for one another after our divorces.
What I learned that afternoon in the doctor's office was that I wish we would have been a wee bit more HONEST with one another. When the doctor removed my bandages the first thing I saw was his face. He was a middle-aged man and he had as many lines on his face as Orwell would describe as having "dust settled in the creases." Wow, he is a lot older than I first realized, I thought. The Picasso knock off in the waiting room was so vividly blue it was as if I was under some mind altering drug. The blues popped out of the painting and the greens swirled with excitement! What a wonderful world it is to be without those nasty cataracts!
Then I saw Diana. She was still breathtakingly beautiful, and not a single hair was out of place. Her leather jacket like butter, her high-heeled boots not a nick on them. She wasn't 25 anymore though. She was pushing 40. How the hell did that happen? We hugged, and laughed and then she pointed me in the direction of the waiting room bathroom. I stayed in that bathroom for what seemed like an eternity. I studied my face. Every line on my face was new to me! OMG! There was just so much to look at! My hair desperately needed color, my teeth needed a visit to the dentist, my face needed a good moisturizer, my nails were chipped and I apparently aged a solid ten years!
This experience reminded me of my favorite show as a kid – Moonlighting with Cybil Sheppard and Bruce Willis. I remember giggling when I heard that she demanded that a cheesecloth filter be used on her during everyclose-up shot. You could tell too! Her face was flawless. Her skin was always powdery and her lips perfectly matted. That was the life that I was used to! My life used to be perfect behind a cheesecloth!
Now, I was faced with the reality that I had to learn how to love each and every gray hair, and each and every line on my face. I had to learn to forget Bruce and Maddie and get on with learning to embrace the new me- the more mature, sophisticated 43 year old new me! So far, the journey hasn't been so horrible, and I believe I  still have the most beautiful children in the world and the most attractive girlfriends–inside and out!