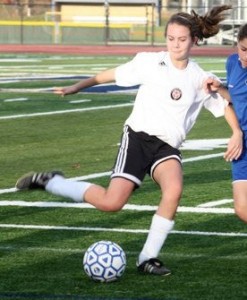 Katie Conklin started playing competitive soccer at age 5, lacrosse at age 7. She stayed at it, and played both sports right into high school. In the fall of her sophomore year, 2011, at a scrimmage soccer game, Katie stepped in a divot. She tried to play on, but her foot got stuck. She heard that sickening, season-ending pop. A torn ACL and meniscus sidelined her for 7 months. She rehabbed, worked hard and was cleared to join her lacrosse team the following spring. Five practices in, cradling the ball, she cut to her left and "pop". ACL and meniscus were torn again.
Many teenagers would bemoan their bad luck and sulk through their recovery. Not Katie. She produced the attached video in an effort to raise awareness about ACL injury, especially in women athletes. If you have a daughter or a son who plays hard, as so many of these kids do, I urge you to take a few minutes and watch Katie's video. Please share it with friends, family and anyone who coaches or works in kids' sports. "An ounce of prevention is worth a pound of cure."
Also take a moment to open the ACL Prevention Packet and Katie's Exercise Log.
At the time  of publication, Katie is not yet cleared to play sports, but has returned to ballet. We wish her all the best for a speedy recovery, and thank her for turning her misfortune into an opportunity for us all to learn.