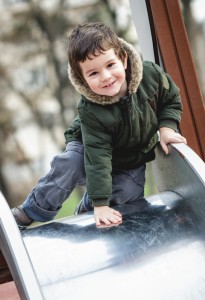 As spring finally arrives, it's the perfect time to get outside with the kids — not too hot, not too buggy. If your backyard has it's limitations, consider visiting one of the playgrounds in our area. We've listed  what we think are the best of the bunch, including the pros and cons of each.
Vets Field Playground in Ridgewood (closing on May 1 for renovations)
PLUS
   Close to everything. Basically, a stroller walk.
   Close to the library, which has a great kids' section
   Fenced-in (big plus for parents with little kids).
   Playset isn't crazy and pretty safe.
   Great climbing playset (advantage for 3-5 year olds)
   Baseball and soccer fields for running around
   Kids love little stream and waterfall across the field.
   A sidewalk around the field is great for riding bicycles or scooters for older kids.
MINUS
There closest bathroom is in the library. The bandshell bathrooms are frequently closed.
There are no swing sets at the playground. Big mistake.
On the small side and can feel often crowded. Best time to go is between 12 and 2.
Parking is relatively far from the playground and close to the street. You can't let the kids just run to the playground.
The "Green" Park near Glen Rock Recycling Center – Doremus Avenue
PLUS
 2 new, bright-looking playsets, for kids of different ages and sizes. Good additions of several slides and spinning wheel,  small climbing area
 There are swings
 Safe and fenced in.
 There is a small sidewalk around the playground for scooters or bicycles.
 Enough benches for every parent.
 Ample parking (although not always winter or spring time, when piles and piles of dirty snow are everywhere.
 Tables and benches for lunch or snack
MINUS
Many trees shade this park, keeping it chilly on cool days.
No bathrooms.
Only two baby swings and two big swings, lines are inevitable.
Borough Park in Waldwick – Hopper Avenue
MINUS
Be prepared for kids who don't want to share.
For some, kids and sand together is a problem. But once you get over germs, dirt and sandy feet, it is a beautiful thing.
Once agin, no bathrooms.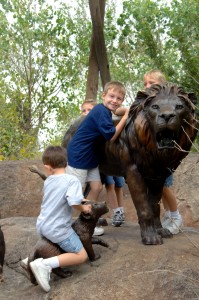 Van Saun Park – 216 Forest Avenue, Paramus
PLUS
Huge!
Train rides, carousel, zoo. Easy entertainment from morning till late afternoon. There are some great animals, too.
New and bright-looking playsets for kids of all ages.
Small cafe, with an okay selection for lunch: hot pretzels and hot dogs.  Better bring your own. But ice cream is always good.
There is a store for souvenirs.
Benches and tables are everywhere.
MINUS
 Very large, so prepare to walk everywhere. Bring a stroller.
 Sketchy-looking bathrooms near the playlets. The cleanest ones are near the zoo.
 With large crowds and lots of spec, it can be easy to lose your child at the playgrounds.
 Schools love to bring kids there. You might experience an invasion of 50 seven-year olds.
If we've missed one of your favorite playgrounds, tell us about it on Facebook.