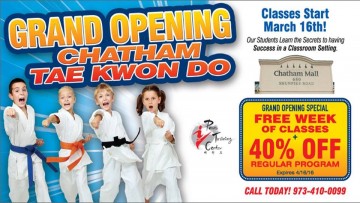 POWER TRAINING CENTER CHATHAM TAE KWON DO
Has mastering the art of Tae Kwon Do ever crossed your mind?   Did you know that Martial Arts is said to improve focus, self confidence, discipline, and respect.
On March 16 Power Training Center opened their third New Jersey Tae Kwon Do location in Chatham Township. The newest studio is located in the Chatham Hickory Mall at 650 Shunpike Road (next to Zio Gino's Pizza).
In celebration of the Grand Opening, an introductory special is being offered through April 16, 2016:
Power Training invites you to try 2 classes for FREE and receive 40% off on the regular program with uniform.
Check out their flexible schedule with a variety of classes for children, teens, adults, and families.
Call the Power Training Center or visit the website for additional information :
HIckory Mall
650 Shunpike Road, Chatham Township
973 410-0099
http://www.powertrainingcenter.com