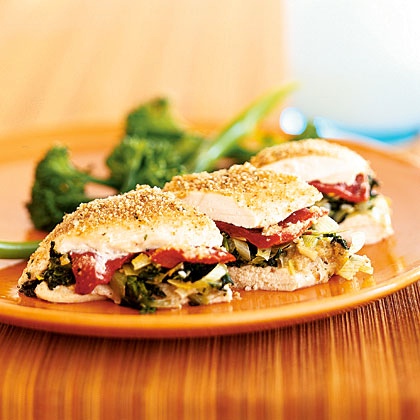 health.com

This chicken entree is so savory that it's difficult to believe that it is low in fat and only 301 calories per serving. Perfectly stuffed chicken breasts with roasted red peppers, spinach and spices.

Size:

4 servings



Ingredients:
1 tbsp olive oil
1 cup thinly sliced leek (about 1 large)
1-2 garlic cloves, minced (about 1 tsp)
1/2 tsp dried oregano
3/4 tsp kosher salt
1/4 tsp crushed red pepper flakes
1/8 tsp ground black pepper
1 (10 oz) package frozen chopped spinach, thawed, drained, and squeezed dry
4 medium (about 5 oz each) skinless, boneless chicken breast, trimmed of excess fat
3 oz bottled roasted red bell peppers (about 1 1/4 peppers)
1 tbsp unsalted butter, melted
1/4 cup Italian-seasoned breadcrumbs
Cooking spray
1/4 cup dry white wine



Directions:




Preheat oven to 350F.

Heat olive oil in a medium skillet over medium heat. Add leek, garlic, oregano, salt, crushed red pepper, and black pepper; cook and stir until leek is soft (about 5 minutes). Remove from heat and add the spinach, stirring to combine; set spinach mixture aside.

Cut the chicken breasts in half horizontally using a sharp knife. Place bottom halves of breasts in a 9×9″ baking dish, setting top halves aside. Divide spinach filling evenly among breasts; top each portion with one-fourth of roasted red peppers, and replace the top halves of breasts.

Brush the top half of each chicken breast with melted butter; sprinkle with breadcrumbs, and spray lightly with cooking spray. Add wine to baking dish (avoiding the breadcrumbs), and bake for 40 minutes or until the chicken is completely cooked.

Remove chicken from oven; let rest for 5 minutes before serving. To serve, cut each breast into 3 or 4 slices on the diagonal to expose the stuffing, or simply leave each portion whole.