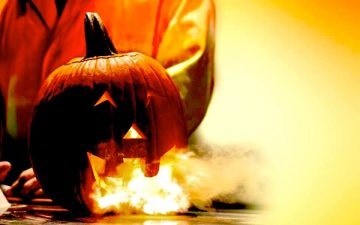 SPOOKY SCIENCE FUN OCTOBER 21 & 28, 2017
Channel your inner Dr. Frankenstein as pumpkins explode, mad scientists experiment and zombies are operated on! Guests of all ages are sure to enjoy this family friendly Halloween-themed party. All activities are included with general admission, with the exception of the dissection workshop. Find Out More
Great Lakes Science Center, 601 Erieside Ave., Cleveland, OH 44114
Chemical Concoctions Show
Potions, brews and crazy chemical concoctions are the stars of this colorful and entertaining demonstration perfect for wizards and witches of all ages.
Pumpkin Explosion
What happens when you combine chemical reactions, pressure and pumpkins? Stop by to find out in this explosively fun demonstration.
Electric Madness Big Science Show
Sparks fly as our mad scientists experiment with electricity and shoot lightning from their fingertips!
Mystery Messages Cart Activity
Experience acids and bases like never before by writing a secret message that is only revealed once you make your paper "bleed."
BASF Playful Polymers Cart activity
Science gets ooey, gooey, slippery and slimy in this activity while we explore the chemistry behind slime and you make your own spooky creation to take home.
Experiment Experience
Experience the "science behind the spooky" as you engage all your senses! Make and take your very own flashlight into the glow in the dark room!
Eerie Science behind Lake Erie Workshop
Have you ever wondered what happens after you flush the toilet? Science gets messy and a little gross when we explore the truth behind the water of our Great Lake sponsored by NEORSD.
Monster Mash Dance Party
Don your dancing shoes and your best costume as the museum gets shaking and grooving to the best seasonal dance songs around.
All activities are included in general admission.