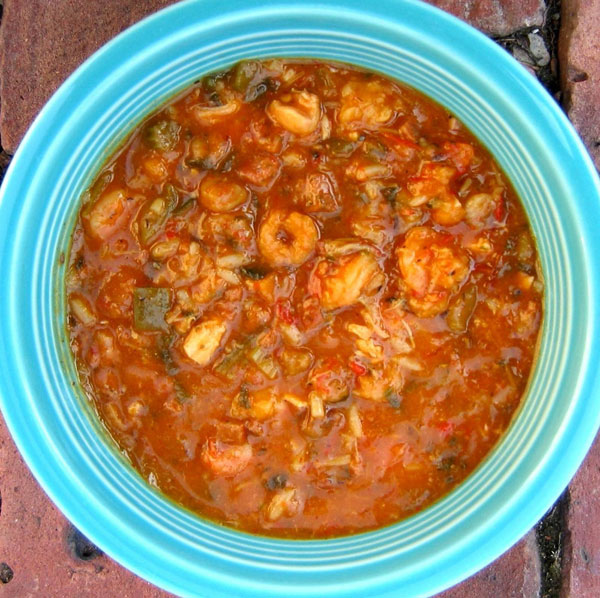 Slow-cooking is not just for winter comfort food.  Ideal idea for a busy workday, or relaxing day with friends and family.  Place all of the ingredients in the cooker and walk away.  A few hours later… a hearty meal is ready!  Jambalaya incorporates poultry, meat and chicken, along with your daily dose of veggies.

Size:

6 servings



Ingredients:
1 1/2 lb skinless, boneless chicken thighs, cut into 1" pieces
4 oz andouille or cooked smoked chorizo sausage, cut into 1" pieces (Whole Foods or Fairway Market)
1 cup chopped onion (1 large)
1 cup sliced celery
1 (14.5 oz) can fire-roasted diced tomatoes*, undrained (Stop and Shop)
1 cup chicken broth
2 tbsp tomato paste
2 tbsp quick-cooking tapioca, crushed
1 tbsp Worcestershire sauce
1 tbsp lemon juice
1 tbsp finely chopped fresh serrano chile pepper
3 cloves garlic, minced
1/2 tsp dried thyme, crushed
1/2 tsp dried oregano, crushed
1/4 tsp salt
1/4 tsp cayenne pepper
1 (8 oz) package frozen peeled and deveined medium shrimp
2 cups frozen cut okra (optional... I don't prefer)
1/2 cup chopped yellow sweet pepper
1 (14 oz) pouch boil-in-bag long grain rice (white or brown)



Directions:




In a 3 1/2 or 4 quart slow cooker combine chicken, sausage, onion and celery.  Stir in next 12 ingredients.

Cover and cook on low-heat setting for 6 to 8 hours or on , high-heat setting for 3 to 4 hours.

If using low-heat setting turn to high-heat setting.  Stir in frozen shrimp and if desired, okra.  Add sweet pepper.  Cover and cook for about 30 minutes more or until shrimp are opaque.

Prepare rice according to package directions.  Serve rice with each serving.

*  If you can't find fire-roasted diced tomatoes, use plain diced tomatoes and add 1/4 tsp liquid smoke (same aisle as BBQ sauce).