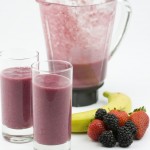 Post exercise nutrition is critical for recovery and repair. For up to 2-3 hours post- workout your body's carbohydrate tolerance and insulin sensitivity is greatly improved (this is a very good thing) which would indicate the perfect time to refuel with high quality carbs and protein. Similarly, smoothies are the ideal post exercise food – quick to make, flexible recipe and easily digested. This smoothie recipe is really a guideline as long as you follow the liquid suggestions (NO juice or dairy milk), the flax and preferably the Chia, you can choose the fat, protein and produce you feel like that day. I recommend mixing it up each time to ensure you constantly are getting a wide variety of nutrients. Makes 4 -5 small "snack" servings or 2-3 meal sizes (I workout first thing in the morning so this doubles as my breakfast). Store the extra in a container and keep in fridge for a day or two.
SMOOTHIE:
1 Cup coconut water
1 Cup "milk" (rice, soy, almond, coconut- not the canned type)
1 TBSP (ish) Chia Seeds
1 TBSP (ish) Ground Flax seeds
½ avocado
1 ripe banana
1 Cup frozen spinach
1 – 1 ½ Cup Frozen fruit (depending on size)
Cinnamon to taste
Whiz til well blended and let sit a few minutes for the Chia to gel and enjoy.
Notes:
Measurements are NOT specific other than the liquid. I use fresh or frozen fruits and veg – whatever I have on hand. If you use frozen produce you don't have to use ice cubes.
Make sure frozen foods are strictly that food – no added anything – esp sugar.
Subs:
Use 1 TBSP of coconut oil instead of avocado for fats
Use regular water or all coconut water if you don't like milk.
Use organic Cocoa or Carob powder, cardamom, cloves, etc for taste
Add organic peanut butter, sunbutter, almond butter, or tahini or protein powder for protein instead of Chia (don't add any other fats).
Use Kale, parsley, Collard Greens etc for your greens