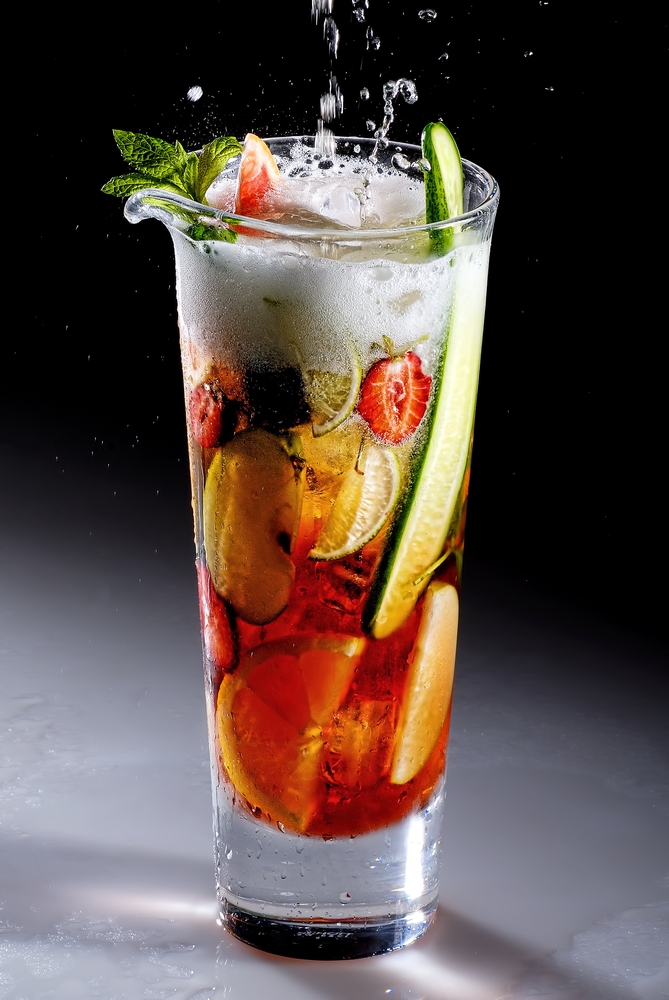 Thank you to the brilliant Brit James Pimm, for infusing gin with herbs and fruit back in the 1840's.  Pimm's No. 1 is what he called it, and when it's jazzed up with some soda water (ginger beer here), fruit and herbs, the perfect spring-time cocktail is served.

Size:

makes 2



Ingredients:
1 3" piece English cucumber, cut into 1/2" slices, plus 2 spears (for garnish)
3/4 cup Pimm's No.1
3 tbsp fresh Meyer lemon juice (Whole Foods has Meyer lemons) OR regular lemon juice
1/2 tsp sugar
Ice cubes
2 sprigs each fresh rosemary, thyme, and mint
2 lemon slices
2 fresh strawberries, halved
Ginger beer, chilled (in soda aisle of grocery market)
2 rhubarb stalks (optional for garnish)



Directions:




Place 1/2″-thick cucumber slices in cocktail shaker.  Using muddler or handle of wooden spoon, mash well.  Add Pimm's, lemon juice, and sugar.  Fill 2 pilsner glasses with ice; set aside.  Add ice to Pimm's mixture, cover, and shake vigorously 20 times.  Strain into glasses.  Push 1 rosemary sprig, 1 thyme sprig, 1 mint sprig, 1 lemon slice, and 2 strawberry halves down into each glass.  Fill glasses with ginger beer.  Garnish with cucumber spears and rhubarb stalks (optional).