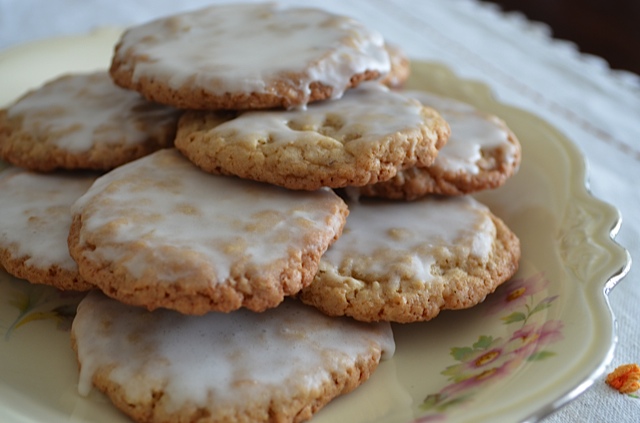 prepared by and photo by Emily S. Downs

Who doesn't love to "whip" up a treat?  These cookies are really easy to make with no fancy ingredients.  You may find most of the ingredients are already in your pantry!

Size:

makes 2-3 dozen



Ingredients:
1 cup shortening
1 cup granulated sugar
1 cup light brown sugar
2 eggs
1/2 tsp vanilla
1 1/4 cup flour
1 tsp baking soda
1/2 tsp salt
1/2 tsp cinnamon
3 cups old fashioned oats
2 eggs whites (for glaze)
2 tsp lemon juice
2 cups powdered sugar



Directions:




Preheat oven to 350F.

For the cookies:
In the bowl of an electric mixer, combine the shortening, sugars and eggs.  Add vanilla.  Combine flour, soda, salt, and cinnamon in a small bowl.  Add to the cream mixture.  Mix in oatmeal.  Let mixture sit for 5 minutes or so and then mix again.

Bake on parchment lined baking sheets for 10-12 minutes.  (They spread so I bake them 6 at a time on large cookie sheets).  The edges will become golden brown but the middles will look underdone.  Cool on pan on wire rack for 5 minutes.  Remove from pan and cool completely on racks.

For the glaze:
Beat egg whites, lemon juice and powdered sugar.  Hold cookies by outside edges and dip upside down in icing.