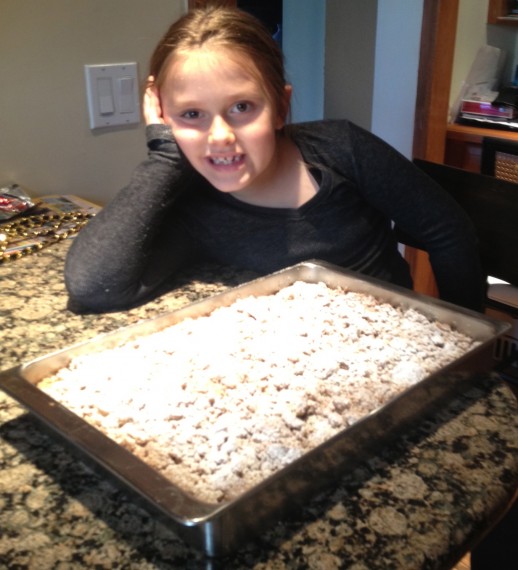 Nana is famous in our family for her chocolate chip cookies and crumb cake.  While none of us  have been able to master her cookies yet,  we've come pretty close to her crumb cake… it's so good.
Ingredients:
1 Duncan Hines Butter Cake Mix
4 Eggs
2/3 Cups Milk
2/3 Cups Vegetable Oil
4 Cups Flour
2/3 Cups Sugar
2/3 Cups Brown Sugar
1 Tablespoon Cinnamon
3 Sticks Melted Butter
1 Tablespoon Vanilla


Directions:
Add the Duncan Hines Butter Cake Mix, 4 eggs, 2/3 cups milk, and the 2/3 cups vegetable oil into a bowl and mix for 4 minutes.   Pour mixture onto a greased cookie sheet and bake at 350 degrees for 20 minutes.
While cake is baking, make the topping.  Melt butter in sauce pan and cool slightly.  Mix flour, sugar, brown, sugar and cinnamon in a bowl.  Add melted butter and vanilla.  Remove cake after 20 minutes from the oven and sprinkle crumb mixture over the cake.  Return to oven for an additional 20 minutes…and you have the best crumb cake ever in my opinion.