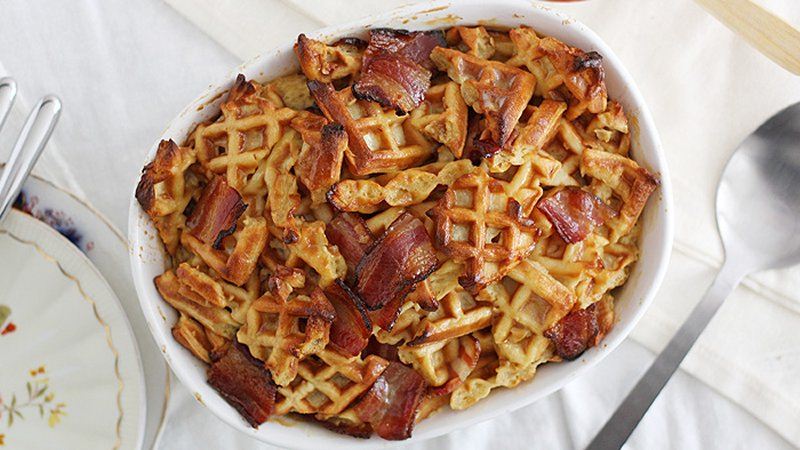 photo creds: bettycrocker.com

Good ole Betty Crocker came up with this dangerous breakfast casserole. But with today's trend on bacon what better way to embrace this tasty stick of salty pork?  Give in to your desire just this once combining all of the breakfast treats you love… bacon, eggs, syrup, waffles… yowza!

Size:

8 servings



Ingredients:
6 waffles, broken into 1" pieces (about 8 cups total... use your favorite frozen or homemade)
6 egg yolks
1/2 tsp salt
1 1/2 cups milk
1 cup whipping cream
1/2 cup real maple syrup
1 tsp vanilla
8 to 10 slices bacon (12 oz), crisply cooked, chopped into 1" pieces
1 tbsp unsalted butter, melted



Directions:




Heat oven to 350°F.

Lightly grease 10×6-inch (1 1/2-quart) glass baking dish with shortening or cooking spray.

Spread waffle pieces in even layer on ungreased cookie sheet. Bake 15 minutes or until crisp.

Increase oven temperature to 375°F. In large bowl, beat egg yolks, salt, milk, whipping cream, maple syrup and vanilla with whisk until well combined. Carefully stir in waffle pieces and bacon until evenly coated. Let stand at room temperature 30 minutes to 1 hour, stirring every 10 to 15 minutes.

Pour mixture into baking dish; press down with back of spoon. Cover tightly with foil.

Bake 50 to 60 minutes, removing foil during last 10 minutes of baking, until knife inserted in center comes out clean. Brush top with melted butter. Cut into squares; serve warm.