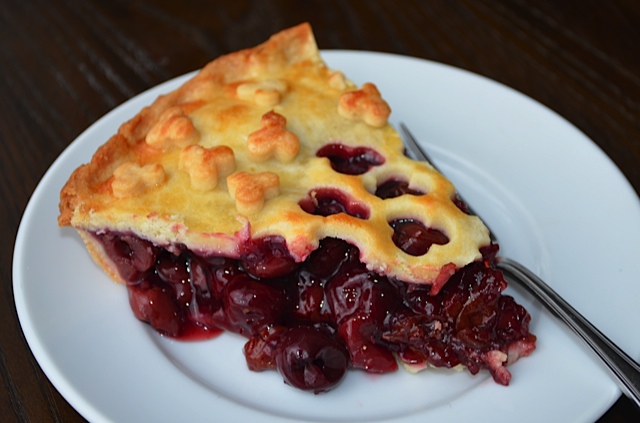 prepared by and photo by Emily S. Downs

Cherry pie has always been one of my favorites.  I've taken my mother's already fabulous recipe and tweaked it to make it a mother/daughter delight.

Size:

serves 8-10



Ingredients:
PASTRY CRUST:
2 1/4 cup flour
3 tbsp sugar
1/2 tsp salt
1 1/2 sticks chilled unsalted butter in 1/2" pieces
1 tsp almond extract
3-5 tbsp milk
FILLING:
1/2 cup sugar +
2 (16 oz) or more cans of sour cherries (Trader Joe's... but use only what is necessary & not all of the juices)
1/4 tsp salt
1/2 tsp almond extract
1 cup of dried cherries



Directions:




PASTRY CRUST:
Combine flour, sugar, salt and butter in a food processor.  Mix until mixture resembles coarse crumbs.  Sprinkle almond extract and milk, 1 tablespoon at a time and pulse until mixture holds together.  Shape dough into two balls and flatten to 1″.  Wrap and refrigerate for 30 minutes.
FILLING:
In 3 qt. saucepan, combine 1/2 cup sugar, cornstarch and salt.  Drain liquid from cherries into saucepan, set cherries aside.  Stir liquid into sugar mixture until no lumps remain.  Heat to boiling over medium heat, stirring frequently.  Continue cooking 1 minute until mixture is clear and thickens.  Stir in cherries, the dried cherries, almond extract.

PIE ASSEMBLY:
Heat oven to 400F.  Between 2 sheets of waxed paper, roll-out one ball of pastry to an 11″ round for 9″ pan.  Let excess extend over.  Spoon cherry pie filling into dish.  Roll other ball of pastry out into a 9 1/2×7 1/2″ rectangle and cut into 1/2″wide strips if making lattice top, or use small cookie cutter and cut shapes out of crust top.
Lift edge of bottom crust over ends of top crust.  Pinch together and flute edge.  Sprinkle sugar over pastry top.  Place pie on rimmed baking sheet.  *Bake 35-40 minutes until crust is browning and cherries bubble.  Cool on wire rack completely before cutting.

* to prevent crust edge from burning, wrap edge in foil before baking and remove last 10 minutes in oven.

** for those of you who don't like making pie crust from scratch, you can always use store bought.  They come in packages of two.